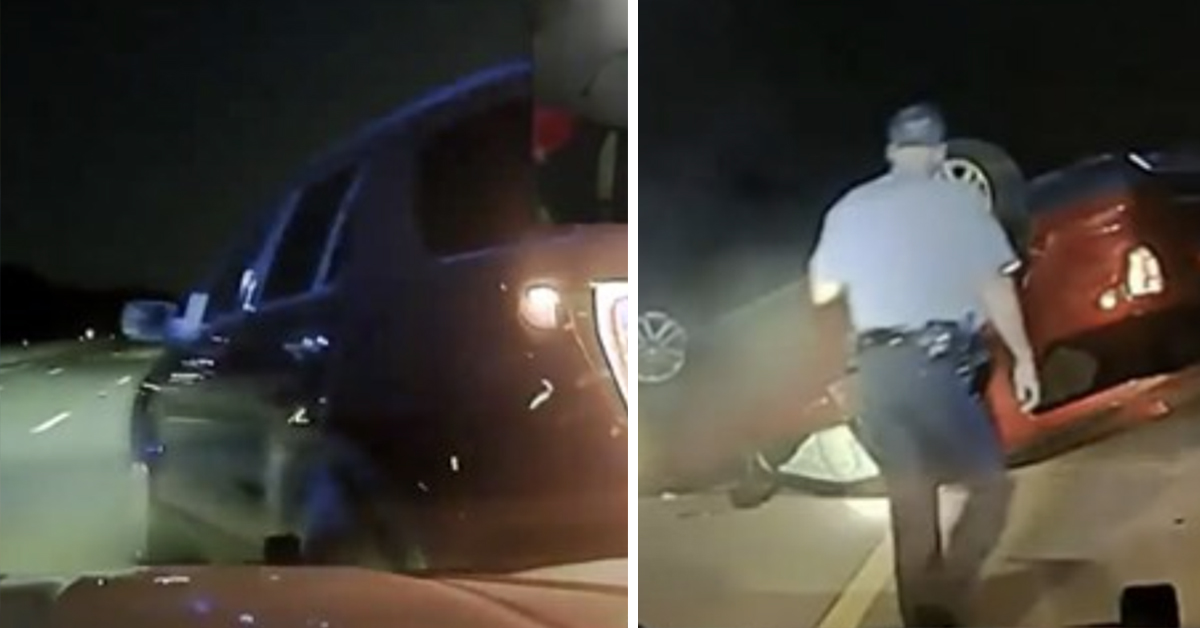 Shocking footage has emerged showing a police officer flipping a pregnant woman's car because he deemed her to be too slow in pulling over. As per reports, the pregnant woman was out driving when she spotted police lights flashing in her rear view mirror.
Nicole said she turned on her hazard lights and slowed down to locate an ideal spot to come to a stop. She then tried to head towards an exit ramp because the highway shoulder was narrow where she was driving.
By this point, Officer Rodney Dunn had been flashing his lights for two minutes, but Nicole claims she wasn't give adequate time.
Footage from Officer Dunn's vehicle shows him closing on the left hand side of Nicole's red SUV and clipping it in a maneuver known as a Precision Immobilization Technique (PIT).
This caused Nicole's vehicle to bank left and hit a road divider, after which it flipped onto its roof. In audio from the accident, Nicole can be heard screaming that she is pregnant, but Officer Dunn replies only: "this is where you ended up".
Nicole has now launched a lawsuit against Officer Dunn and the Arkansas State Police, while authorities claim she is to blame as she was attempting to 'flee' the officer and so had become a danger to other drivers.
Nicole's lawsuit accuses the Arkansas State Police of "using a PIT manoeuvre and putting her own life and the life of her unborn child at risk as a result."
Under the 2016 law code, Arkansas police officers are granted immunity from repercussions relating to these sorts of things.
The law reads: "The members, officers, executive director, and employees of the Interstate Commission for Adult Offender Supervision shall be immune from suit and liability, either personally or in their official capacity, for any claim for damage to or loss of property or personal injury or other civil liability caused or arising out of any actual or alleged act, error, or omission that occurred within the scope of interstate commission employment, duties, or responsibilities; provided, that nothing in this subdivision (a)(1) of this section shall be construed to protect any such person from suit and/or liability for any damage, loss, injury, or liability caused by the intentional or willful and wanton misconduct of any such person."
Nicole's lawyer, however, argues: "Dunn chose to use a deadly force against a pregnant woman who was in the process of looking for a safe place to stop".
This is nuts. Nicole Harper was pulled over by an Arkansas state trooper. She pulled to the side, turned on her hazards, and looked for an exit.

He waited 20 seconds and then used a PIT maneuver to flip her car. She was pregnant. pic.twitter.com/hYIg6hVT7W

— Sawyer Hackett (@SawyerHackett) June 9, 2021
Related posts