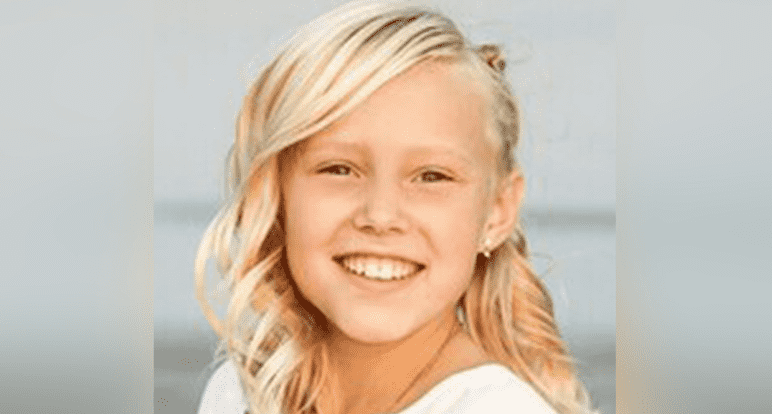 A young girl, "so full of life and love," was taken away from her family in a terrible accident before they had the chance to watch her grow up. The 10-year-old Kambrie was out with her father Brad, when the accident took place on Monday, July 26, in Idaho. As the father and daughter were driving around, a semi-truck drove in the very same direction and kicked up a rock from the road; the rock then flung through Brad's windshield and struck Kambrie on her head.
The impact left Kambrie fatally injured, and she was immediately driven to the hospital by her father, who is also the county coroner.
Later, Kambrie was airlifted to the Primary Children's Hospital. Sadly, the young girl passed away, leaving behind her parents, Brad and Kristen, and her siblings Kyler, Hallie, Ethan, Blakely, and Jordyn.
According to the police officials, Kambrie was sitting in the car's passenger seat when the 4-inch rock crashed through the windshield. It was also reported that the rock had already been dislodged from the roadway in the lead-up to the accident. While Brad's car and the semi-truck were traveling down the road, the semi-truck unintentionally sent the rock flying into the father's vehicle.
An investigation soon began after the crash, and officers managed to find the driver that was at the wheel of the semi-truck when the accident took place. The driver revealed that they had no idea that a 10-year-old girl's life had been taken away that day.
Following the investigation, authorities determined that there was no wrongdoing involved in the events that led to Kambrie death, which has left "two large loving extended families" grieving.
As the family described their "sweet, loving Kam Kam," they remembered her as a girl "so full of life and love and always up for an adventure," according to an obituary.
"She was always playing with someone's child or talking to an adult she had just met," added the obituary. "She loved all animals and was always happy to care for a new one. Her happy countenance shown about her always and she gave everyone the best hugs! Kambrie sped through her short life with such drive and intensity modeling love and inclusion in all she did."
Kambrie's father, Brad Horsley, also put up an emotional message on Facebook:
"Heaven gained the perfect angel today. She was the best all around girl," Brad wrote. "I don't know what I'll do without her… Thank you for your thoughts, texts and prayers. Love my Kam Kam… Can't wait to see you again. I'll Love you forever. I know I'll see you again!! Please continue to pray for us. This family will need it!!! She was the BEST. Families are forever!!!"
Related posts