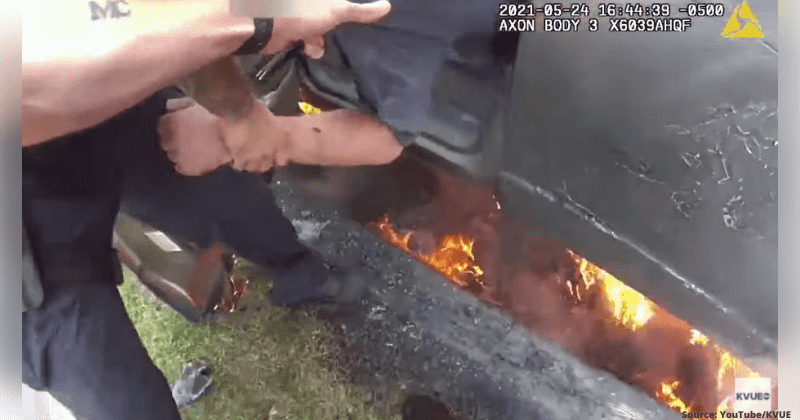 Two police officers in Austin are being hailed as heroes after they bravely saved a man from a burning vehicle. On Monday, Officers Eduardo Pineda and Chandler Carrera arrived by an apartment complex in south Austin after receiving calls about a burning car, which ultimately exploded. But it was the quick thinking and courageous efforts of the officers that averted the death of a citizen. 
Recalling the terrifying moment, Officer Pineda said, "As I was running up to the vehicle, one of the citizens started yelling out that he was still in the car. I tried to look inside the window, but there was too much smoke. I couldn't see anything. I ran up to the driver's side door. I tried opening it, but it was locked." Despite the hurdles, Pineda did not back down. "So, at that point, I just got my asp and broke the window down in order to be able to look inside. Once I broke the window down, I saw the individual inside and went from there."
Both the officers had carefully divided their set of responsibilities. While Officer Pineda worked on rescuing the man out of the vehicle, Office Carrera focused on getting a fire extinguisher. But when he realized that the victim needs more help, he dropped it for the task at hand. "My original plan was to use the fire extinguisher as he pulled him out to try to avoid anyone from being hurt, but it came apparent that he was a pretty big guy and he may be stuck in the vehicle. So, I just dropped it and pulled him out from there," revealed Carrera.
During the dramatic rescue operation, Pineda and Carrera managed to pull the man out of the truck just moments before it exploded and was engulfed in raging flames. Despite their valiant effort, the officers declined to take the sole credit for the man's well-being. "It was a collaborative effort. We got the guy out, but ATCEMS ultimately provided higher-end medical care than we could, and the Austin Fire Department showed up to put the fire out so it couldn't expand," explained Officer Pineda. 
Just two hours after the near-death experience, both the officers responded to a shooting in the Onion Creek Greenbelt area and saved another life. "We're really happy the way it turned out. It was a dangerous situation, but everyone made it out fine and that's what matters," said Pineda of both the situations. They were quite hesitant to speak on camera as they noted that any police officer in their position would have done the same. The humble officers added that they were just in the right place at the right time. 
"Everyone else in this department does stuff like this, it's just that ours happened to be caught on camera," said Carrera, while Pineda noted, "We don't consider ourselves heroes, we're just police officers. That's our job. We're here to help people." On Tuesday, their heroic deeds were recognized as they were presented with a Chief's coin.
Corporal Destiny Silva said, "APD is proud to recognize these officers for their heroic actions on May 24, 2021, when they removed a man from a burning vehicle and then brought him to safety. If it wasn't for their heroic actions, we don't know how the situation would have turned out and they saved someone's life." 
Related posts