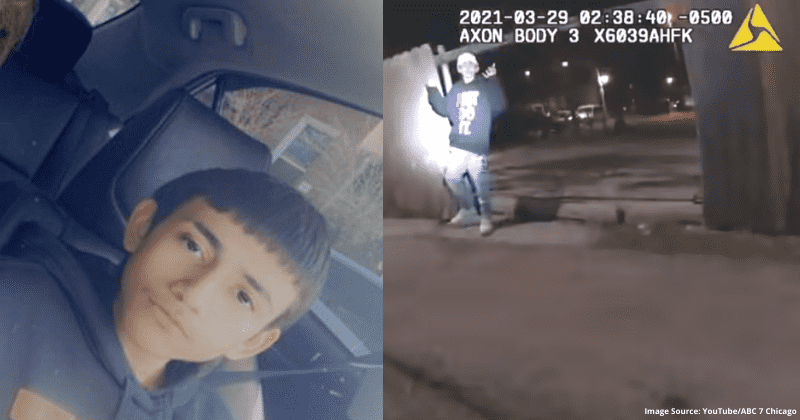 After a young teenage boy was fatally shot by a police officer, Chicago Police have released the body cam footage that captured the final moments that led up to the death of the 13-year-old boy. Right before the incident, officers were reportedly in the area after gunshots were detected by police technology in Chicago. One of the clips released by the police shows an officer jumping out of his car and chasing the 13-year-old boy down an alleyway while ordering the boy to stop and put his hands up.
"Police! Stop! Stop right [expletive] now! Hands! Hands! Show me your [expletive] hands!" the officer shouts at the boy. About 19 seconds after the officer got out of his car, the footage shows the uniformed man firing a shot at Adam just as the boy put his hands in the air. The very next moment, the boy collapsed on the ground while the officer called for an ambulance and told Adam to "stay awake."
Later, the officer who fired the fatal shot was identified as 10th district patrol officer Eric Stillman. The police have pointed out that the boy was carrying a gun in his hand, which he quickly tossed aside before putting his hands in the air. When Adam showed his hands, he was not carrying a weapon in his hand but was shot in his chest. "Within a second before that, we see what appears to be a gun in Toledo's hand and that he drops it before he raises his hands," Legal Analyst Gil Soffer, a former federal prosecutor said. "If that's the case, the officer has a very credible defense."
On the other hand, attorney Tony Thedford of Thedford Garber Law said, "It appears to me that the young man had his hands up when he was shot. It appears to me that when the young man made the move to the gate or the fence, that opening where the shooting occurred, before he turned around it appears if he had a gun he disposed of it right before the shooting. It's very evident to me that he did not have the gun at the time the officer fired his weapon."
Another attorney, Anthony Burch, also added, "You see Mr. Toledo raise his hands and turn around. If you look at that and listen to what is going on, he is following the directions of the police officer and he's shot." On Thursday, April 15, a number of small protests were held in Chicago over Adam's killing. Both the boy's family as well as Chicago Mayor, Lori Lightfoot, appealed to people to remain calm during the tense time.
"Simply put, we failed Adam. And we cannot afford to fail one more young person in our city," the mayor said in a press conference before the video was released. "We live in a city that is traumatized by a long history of police violence and misconduct. So while we don't have enough information to be the judge and jury of this particular situation, it is certainly understandable why so many of our residents are feeling that all too familiar surge of outrage and pain."
Related posts