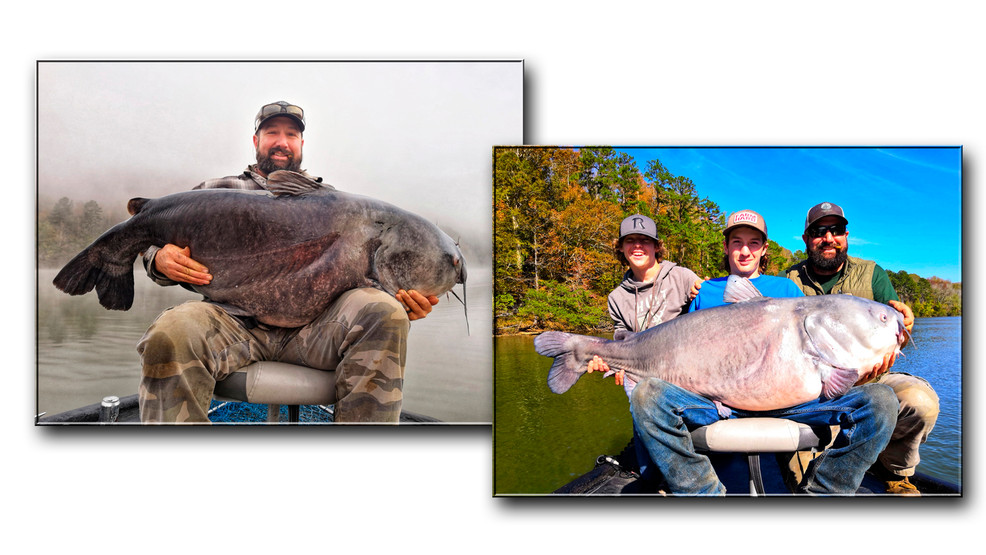 CHATTANOOGA, Tenn. — Disregard the "lightning" reference in this headline as this story is NOT about lightning in the electrical sense. It IS, however, about two incredible fish catches that occurred in one day recently.
Every hardcore catfisherman in the word dreams of catching a "triple digit fish." That is a catfish that weighs 100 pounds or more. There are no real statistics to measure, but VERY few catfishermen will ever accomplish that goal in their entire life.
However last week, fishing with professional guide, Capt. Ty Konkle, the Cabe family and a friend from Murphy, North Carolina accomplished that goal TWICE in one day.
It was the very first paid guide trip Brian Cabe and his son, Woody, had ever been on. They were fishing in the 26-mile-long Tennessee River Gorge, a huge gash carved in the Upper Cumberland Plateau by the Tennessee River, just outside Chattanooga. It is the fourth largest such river gorge in the Eastern United States, featuring extremely deep water with water depths reaching 120 feet in places.
"It's very deep with lots of structure," said Capt. Konkle. "It's very hard to fish. A lot of fishermen get frustrated fishing down there."
But Konkle knows the extreme depths and excellent structure harbors huge catfish.
"I think there are trophy catfish all over the place (in the Tennessee River) but I think there's a higher percentage of them in the Tennessee River Gorge," said Konkle.
The first monster catch came almost immediately after they started fishing last Friday.
"We were literally three minutes into the trip when it hit," said Konkle. "I knew it was a good fish but when someone else is on the rod you really have no idea how good it might be."
Brian was on the rod.
"Good Lord, what is on the end of this thing," exclaimed Brian, whose biggest catfish before this weighed 37 pounds.
Konkle said the battle with the monster blue catfish wore on for at least 20 minutes.
"The fish surprisingly kind of stayed put," said Konkle. "He didn't go swimming all over the river. He just kept making power dives straight down, stripping drag time after time."
When huge catfish come up from deep water, they routinely expel air from their swim bladder. Konkle said when he saw the first massive bubbles come to the surface, he knew it was an extremely large fish. When they finally saw it, Brian asked, "Is your net big enough?"
It was, however Konkle said it took two people to lift the fish into the boat. That is when Brian said, ""You know that 37 lb. flathead I caught. That there was a minnow compared to this."
The huge catfish bottomed out Konkle's 100-pound scale. A measurement formula used by professional biologists put the weight at 107 pounds.
Obviously, there was a wave of excitement rippling through the boat, followed by an arduous photo session. Then the monster catfish was released back into the river.
"When you catch a big one first thing on a trip you always figure, 'It's downhill from here," said Konkle. "But then, when you go and do it again, it's just unreal."
Related posts