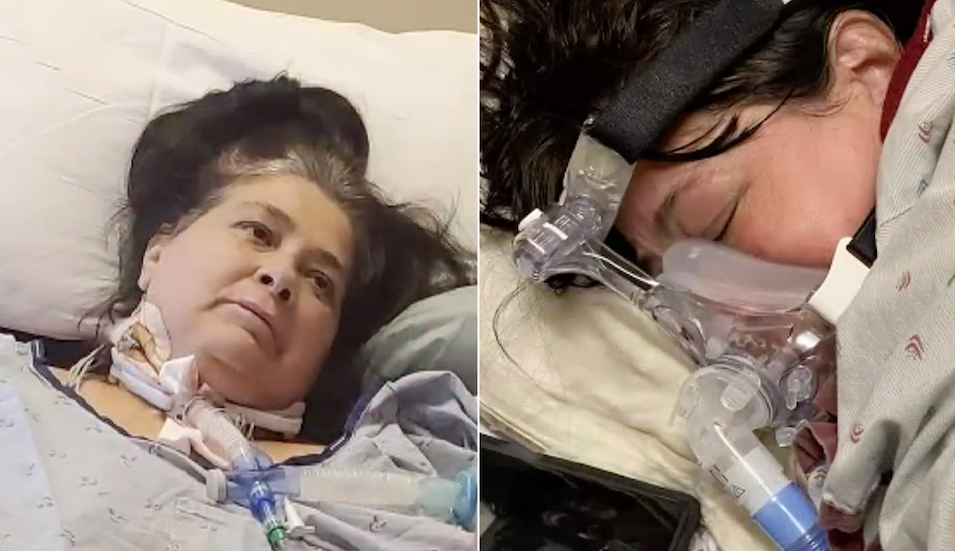 According to the health officials, the infectious period varies from person to person and most people with COVID-19 will have a mild illness and will recover in a few days. Doctors said that people at higher risk of serious illness may take weeks to recover and sometimes, even months. This woman, who was not vaccinated when she contracted the Coronavirus at the end of last year, says her fight against the virus was far from over. Just few days after catching COVID, she was placed on a ventilator and weeks later she was paralyzed from the waist down.
During an interview with WAFB9, the woman from Louisianna, Carla Bielkeiwicz, said that her journey with COVID-19 has "been a nightmare." Carla told the outlet that she contracted the virus in Dec. 2021. Carla, who was not vaccinated against COVID, says she was immediately placed on a ventilator.
Unfortunately, just few weeks later, Carla was paralyzed from the waist down. She reportedly told WAFB9 that 'the only thing she could move was her feet.' "My head and my feet, and one finger," she reportedly said. At one point, the medical personnel at the hospital reportedly told her family that she might not make it and they need to say their goodbyes.
Luckily, the brave woman won one round against the virus, but her fight against COVID-19 was far from over. Unfortunately, the doctors told her that she had "Long COVID." Carla said that she still has COVID-19 symptoms, 6 months after the initial infection. She also said that she was forced to learn how to walk and breathe on her own again. 
During an interview with WAFB9 News, Carla reportedly said: "I'm my mother's caregiver. I'm my husband's caregiver at home. So not being able to go home and do what I need to do felt useless. So many times, I laid up in the hospital bed crying because I couldn't do what I wanted and needed to do. My responsibilities."
Carla said she is feeling better in the last few weeks, but also added that she has a long way to go. Carla reportedly left the hospital on Wednesday. She also told WAFB9 that she is sharing her COVID-19 journey so people could take the virus seriously and take the right steps to protect themselves.
According to the health officials, there is no official threshold at which someone officially becomes a long COVID patient. It's hard to pin down just how common long COVID is because various studies attempting to measure that define the disorder differently. A study reportedly revealed that 30% of people with mild illness had persisting symptoms nine months after initial infection. 
Featured Image Source – WAFB9 News Video | PrtScr
Related posts