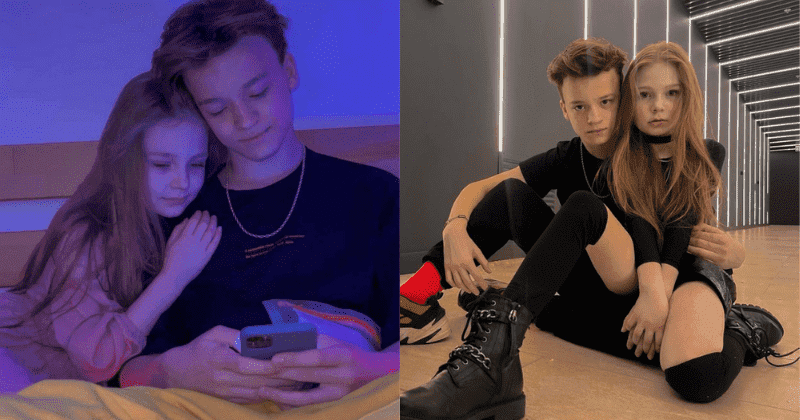 Marriage is supposed to be a holy union between two consenting adults who have decided to spend the rest of their lives together, but the news of an eight-year-old girl getting married to a 13-year-old boy just for their 15 minutes of fame has left quite a lot of people in shock. The mother of the girl—a social media influencer— used her daughter's fame to stage a wedding between her and the boy who is a blogger. 
Child influencers Milana "Mila" Maxanets wed Pavel "Pasha" Pai, with both parents approving of the union. The parents have also denied using their fame to profit off of them. Mila has over 516,000 followers on Instagram, while Pavel has more than 50,000. Local media reports that the two kids have even moved in together in Kyiv, Ukraine. 
The couple shares provocative photos of them together including one where they were chained to each other for 24 hours for the sake of a "challenge," on their social media handles.  Their "wedding" caused widespread outrage and asked for the children's accounts to be blocked. It was so severe that officials had to step in. 
Now, the father of the girl has spoken up, saying he just doesn't understand what's going on. The man clarified that he was separated from Mila's mom, Daria Maxanets, two years ago. He can't wrap his mind around the fact that his ex-wife let their young daughter get married. 
"I am really shocked at what's going on. This is all, to put it mildly, very wrong," he said, adding that he is trying to get in touch with his daughter and offer her help. He also claimed that his ex-wife is only using their daughter to make money. 
However, mom Daria defended her daughter and noted that her daughter had mentioned in her post that she was going for a "sleepover." She continued, "It was a family visit. We are all friends."  
The young influencers tied the knot in a "pretend" ceremony, but children's ombudsman Nikolai Kuleba reported the incident to the public prosecutor's office, the cyber police, and the Ministry of Internal Affairs. An investigation is being conducted by the cops. 
Now, local reports claim that Daria has been questioned by police over the photos, and prosecutors have opened a criminal case about the alleged distribution of pornography. Lawyer and Criminologist Anna Malyar said that the parents are behaving negligently towards their children.
"The girl has millions of subscribers on various social networks who constantly follow her as an idol. So there is a risk that they will begin to imitate their idol and become easy prey for pedophiles," she said. "This absolutely goes against the normal sexual development of children."
Related posts