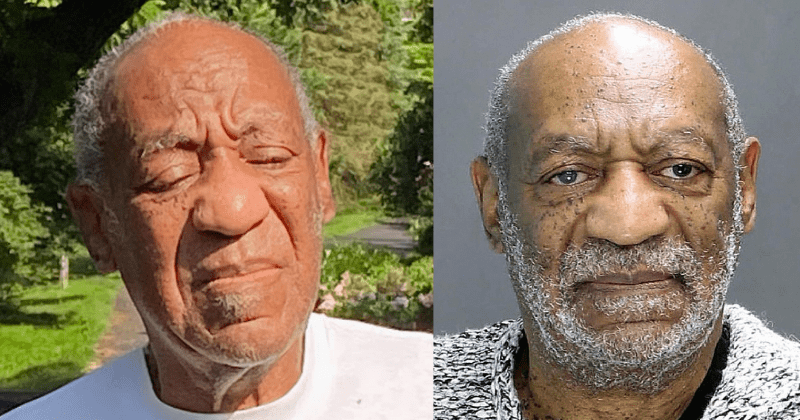 After spending nearly three years in jail for drugging and sexually assaulting a woman, comedian Bill Cosby is a free man following the shocking overturn of his rape conviction. The disgraced actor was released based on a technical issue, and the man—once known as "America's Dad"—had plans of celebrating his newfound freedom with pizza. Before walking into his home in Philadelphia on Wednesday, June 30, Cosby was also seen flashing his hand with the V-for-victory sign.
"He's excited… He told me, 'Andrew, my heart is racing,'" said, Andrew Wyatt, one of Cosby's reps.
Wyatt added that the actor, whose conviction was the first major milestone to come out of the #MeToo movement, said Cosby wants to "enjoy this taste of freedom."
"He wants to have a crunchy pizza and just the taste of it," Wyatt said and explained that Cosby "immediately" wants to get back to performing in front of an audience as well.
"He will get back on the stage, on many stages across this country, and he will be telling his story," Wyatt said.
Within no time, a book and a documentary are also likely to be in the works, Wyatt said.
Despite overwhelming evidence and multiple victims coming forward, Cosby has consistently denied the allegations against him 
Cosby wasted no time in saying, "I have always maintained my innocence" as he put out a tweet right after his release and thanked the court for letting him go free.
Cosby also spoke to a local radio statement after his release and said, "This is not just a Black thing."
"This is for all the people who have been imprisoned wrongfully regardless of race, color, or creed," he added. "Because I met them in there. People who talked about what happened and what they did. And I know there are many liars out there."
The Pennsylvania Supreme Court ruled to overturn his indecent assault conviction upon finding out that Cosby had been denied protection against self-incrimination.
In an earlier case, there was an agreement that came about between Cosby's lawyer and the previous state prosecutor. If Cosby testified at the time, it could not be used to incriminate him, according to their agreement. Years later, during the recent trial, the prosecutor was reportedly bound by the same agreement.
In the previous case, Cosby had reportedly spoken freely with the belief that whatever he said could not be used to incriminate himself criminally. However, the second prosecutor used the same lawsuit testimony in the recent trial, which ended with Cosby being found guilty of drugging and sexually assaulting ex-basketball player, Andrea Constand.
On Wednesday, the court said that this was a "process violation" by the prosecution.
"When an unconditional charging decision is made publicly and with the intent to induce action and reliance by the defendant, and when the defendant does so to his detriment (and in some instances upon the advice of counsel), denying the defendant the benefit of that decision is an affront to fundamental fairness," said the high court's decision, penned by Justice David Wecht.
"For these reasons, Cosby's convictions and judgment of sentence are vacated, and he is discharged," Wecht added.
A few hours after the court's decision was made public, Montgomery County District Attorney Kevin Steele said that this doesn't change Cosby's crimes.
"He was found guilty by a jury and now goes free on a procedural issue that is irrelevant to the facts of the crime," Steele said.
After the court's decision, Constand had also put out a statement and said it was "disappointing" and may discourage others from seeking justice after sexual assault incidents.
Cosby is currently in his suburban house and his lawyer, Jennifer Bonjean said, "We are thrilled to have Mr. Cosby home."
Related posts