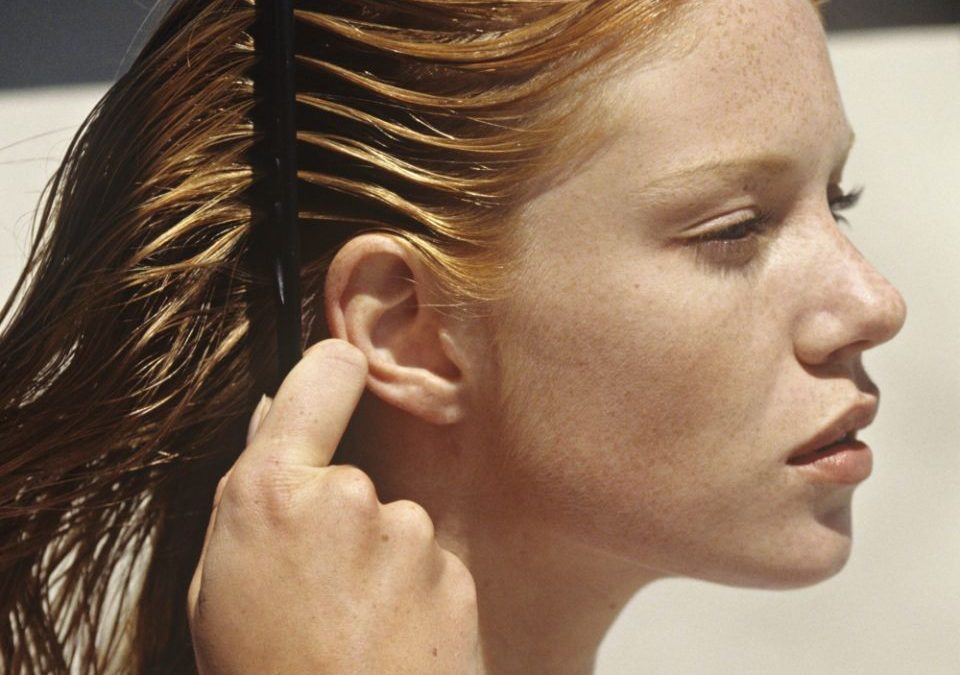 CHATTANOOGA, Tenn – Air-drying your hair isn't exactly rocket science, but for a lot of us, it's also not as simple as letting nature take its course. As an anti-morning person who savors every minute of additional sleep, I try to avoid heat styling at all costs. But as much as I prefer to leave my strands au naturel, it can cause my extremely straight hair to turn limp and staticky, especially as the brutal winter months roll around. But don't worry—that doesn't mean you have to resort to frying your strands. With the products and technique, you can style your hair sans heat and just enough effort to look effortless. Below, my exact air-drying routine that will ensure nature dries your hair like a high-powered Dyson.
When your hair is soaking wet, it is weaker, fragile, and more susceptible to breakage. To get scientific, hair is made up of protein bonds called keratin that are protected by your cuticles (kind of like a shield of armor). When hair is wet, your cuticles open and those proteins form weaker hydrogen bonds, making it easier to stretch and break. That means you have to take extra care not to manhandle your hair when it's wet. Friction is wet hair's worst enemy, so gently squeeze excess water from the ends instead of wringing or rubbing aggressively. Another styling tip? Skip the cotton towel and opt for a microfiber towel instead. Not only does it dry hair quickly and gently, it also keeps frizz at bay for a smoother look post-styling.
2
Reduce air-dry time with air-dry cream
An air-dry cream is a product specifically designed for ditching the dryer. When applied to damp hair, it shaves precious minutes off your dry time and enhances your hair's natural texture. One of my all-time favorites is Joico Zero Heat Air Dry Styling Creme, which doesn't require any heat to activate the product. Squirt a dime-sized amount into the palms of your hands and work it through the mids and ends of your hair.
3
Hydrate with leave-in conditioner
Thickening mousses and texturizing sprays work wonders for fine hair, but come with a slight caveat—the dryness and stiffness that follows. Applying a leave-in conditioner prior to styling can prevent that from happening. Think of it like lotion for your hair—it inserts moisture that was lost in the shower back into your hair and doubles as a primer for your other products. Try Aveda Nutriplenish Leave-in Conditioner.
4
Add volume with thickening mousse
Volume is usually the biggest concern for fine-haired folk. Since air-drying can cause your roots to fall flat and limp as it dries, a pro tip for achieving max volume on air-dried hair is to apply a volumizing mousse on your scalp. My big-hair hack is applying an egg-sized handful of Living Proof Thickening Hair Mousse on my roots to give my 'do that extra tjzuzh.
5
Prevent split ends with a protective hair oil or serum
Next it's time to give some love to your ends. I typically interchange between a hair oil or serum to prevent split ends, tame flyaways, and inject much-needed moisture to dehydrated strands. Just be careful when selecting your oil of choice as heavier oils can weigh down your hair—and your volume goals. That isn't to say you can't find a hair oil for baby-fine hair; there are a ton of shine-injecting, ultra-nourishing oils on the market that deliver amazing results to delicate strands—if you know where to look. Try customized haircare brands like Mon Shampooing and Function of Beauty, which provide personal formulas tailored to your exact hair type.
6
Boost color with UV protectant spray
Just like sunlight is damaging for your skin, it can also take a toll on your hair by fading your perfect color and drying out your strands. Think of UV protectant spray like sunscreen for your hair—it defends hair from the oxidative stress that happens with excessive sun exposure. My go-to is Oribe Invisible Defense Universal Protection Spray, which also has plant-based collagen to make your strands healthier over time (plus, it smells amazing).
7
Add shine with an all-over shine spray
Hair sprays are to hold as shine sprays are to, well, shine (a bit of word association for you). They're full of light-reflecting agents that lightly bounce off your tresses and impart a luminous sheen. I've tried a ton of finishing sprays in my lifetime, but a personal favorite is Color Wow Extra Mist-ical Shine Spray, which emits a fine mist that evenly coats the hair with a glass-like finish. But a word of advice: use sheen sparingly. While we all love glossy hair, using too much can cause buildup on the hair and scalp, which contributes to bigger issues than dull hair.
Try a Tangle Teezer or wide-tooth comb, both of which are gentler on damp strands. My Tangle Teezer of choice is Tangle Teezer Ultimate Finisher, which was literally designed as a finishing brush to your routine. The teeth on this brush are a bit longer and softer than most standard brushes, which allows you to brush through without pulling at your scalp. And voila! As your hair dries, you should be left with a voluminous blowout quality that looks like you walked straight out of a salon.
Related posts