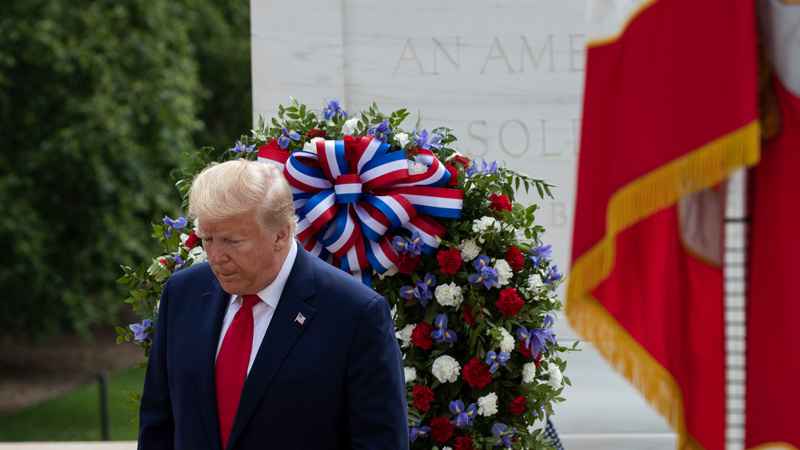 Former President Donald Trump gave a powerful and memorable message to remember the troops who fell in battle serving the American people for Memorial Day.
"On this Memorial Day, we remember the fallen heroes who took their last breaths in defense of our Nation, our families, our citizens, and our sacred freedoms," Trump said. "The depth of their devotion, the steel of their resolve, and the purity of their patriotism has no equal in human history."
"It is because of their gallantry that we can together, as one people, continue our pursuit of America's glorious destiny," Trump went on.
"We owe all that we are, and everything we ever hope to be, to these unrivaled heroes. Their memory and their legacy is immortal. Our loyalty to them and to their families is eternal and everlasting," Trump continued.
"America's warriors are the single greatest force for justice, peace, liberty, and security among all the nations ever to exist on earth. God bless our fallen Soldiers, Sailors, Coast Guardsmen, Airmen, and Marines," Trump added added.
Meanwhile, Vice President Kamala Harris and President Joe Biden stirred controversy with social media messages prior to Memorial Day.
Ahead of the Memorial Day holiday, meant to be a time of deep reflection and gratitude for our men and women in uniform, Harris issued one of the most casual and unmeaningful statements one could imagine.
"Enjoy the long weekend," Harris's official vice presidential account tweeted.
Biden also had an unspirational message for Americans on the somber holiday.
"Stay cool this weekend, folks."
Prior to Memorial Day, Donald Trump had stinging criticism for the current administration in a statement.
"With Memorial Day Weekend coming up, tomorrow people start driving in the biggest automobile days of the year," Trump said. "I'm sorry to say the gasoline prices that you will be confronted with are far higher than they were just a short number of months ago where we had gasoline under $2 a gallon."
"Remember as you're watching the meter tick, and your dollars pile up, how great of a job Donald Trump did as President," he continued. "Soon Russia and the Middle East will be making a fortune on oil, and you will be saying how good it was to have me as your President. Wasn't it great to be energy independent, but we are energy independent no more."
"Shame, shame, shame," Trump concluded. "Other than that, have a great Memorial Day Weekend!"
Arlington National Cemetery recently relaxed COVID safety protocols for family members and veterans to visit. President Biden is expected to given an address at Arlington at 10:30 a.m., accompanied by Defense Secretary Lloyd Austin and Joint Chiefs of Staff Chairman Gen. Mark Milley.
Related posts