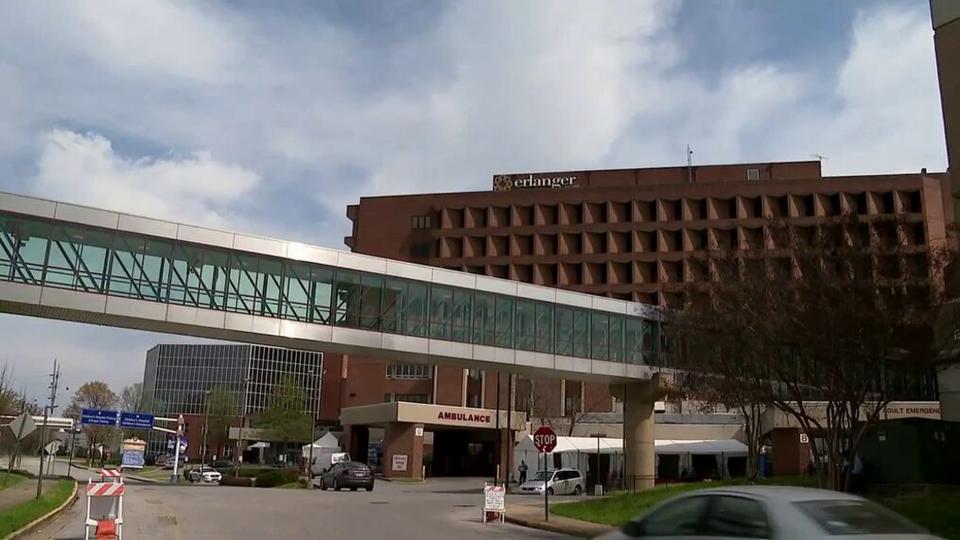 Chattanooga, TN – As Hamilton County's COVID-19 cases, hospitalizations, and deaths continue to rise, Erlanger Health System says it will not allow visitors at any of its hospitals, with limited exceptions.
In a Friday announcement, health system officials confirmed they are restricting their visitation policy at all of their hospitals. Limited exceptions will be allowed on a case-by-case basis.
Hospital officials say this move is to protect staff and patients from the virus.
The Hamilton County Health Department on Friday reported 355 new cases and three new deaths among residents, and the county is currently on the verge of 3,400 active cases, the most ever reported at one time.
The department's data shows the county has now seen more than 22,000 cases and a total of 205 deaths among residents since mid-March.
Erlanger and other hospitals in the Chattanooga area are caring for not only COVID-positive Hamilton County residents, but patients from surrounding areas as well. The Health Department reported on Friday that 90 of the 173 patients hospitalized for COVID-19 are residents. 33 patients were in the ICU battling the virus as of Friday afternoon.
You can see Erlanger's full statement below:
"Erlanger Health System announces changes to the visitation policy in an effort to curb community spread and protect staff, patients, and the community at large. Beginning tomorrow, December 12, Erlanger will not allow visitors at all Erlanger hospitals, with limited exceptions.
The visitation policy for end-of-life, Obstetrics, NICU, and Children's Hospital at Erlanger will remain unchanged. Limited exceptions on a case-by-case basis will be accepted.
The decision to limit visitors was made after careful consideration of the changing situation with COVID-19 and the rapid community spread. Erlanger officials will continuously monitor this situation and make changes as needed.
HELP FOR HOSPITALS:
Volunteers in Hamilton County are stepping up to help out in hospitals right now.
According to Hamilton County officials, 88 people have come forward to help.
This comes after Hamilton County Mayor Jim Coppinger issued an urgent call for retired nurses and caregivers to fill in. This allows nurses who are on payroll to be fully devoted to treating COVID-19 patients.
Related posts