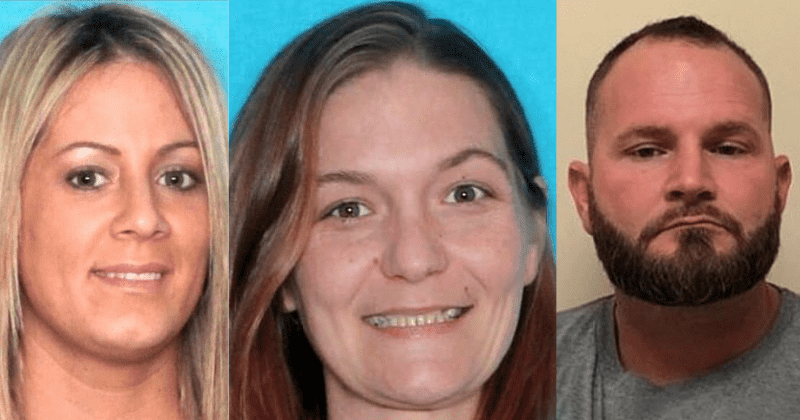 A 34-year-old mother from Louisiana is being hailed a hero after she died trying to protect her daughter from cold-blooded murders. Brittany's brother, Breaux Cormier, 35, a convicted sex offender, was allegedly arrested for third-degree rape of his niece, Brittany's daughter. His victim, whose name has not been revealed, was waiting to testify against him. The Sheriff's office revealed that Breaux Cormier was likely to face a substantial sentence once the rape victim testified in court.
Fearing a lengthy imprisonment, Cormier hired two hitmen from jail to murder the young victim so she wouldn't testify against him, and be silenced forever.
The gruesome attack that resulted in the death of two women, Brittany Cormier and Hope Nettleton, occurred on Jan 13 at a home on Montegut Street, according to Sheriff Soignet. The two hitmen hired by Breaux Cormier showed up at the house at around 10:20 pm, when they found his sister and her neighbor, 37-year-old Nettleton. In a bid to protect her daughter from the men, the 34-year-old mother pretended to be her daughter.
"The shooter asked for the rape victim by name, and Brittany Cormier tells the shooter she's the rape victim, accepting her fate to save the life of the victim," the Sheriff said, while adding it "likely saved the life of the actual rape victim."
The registered sex offender, Beaux Cormier had hired 22-year-old Dalvin Wilson and 25-year-old Andrew Eskine to murder his niece, so she wouldn't be able to testify against him in court.
The suspects fatally shot the victim's mother while Nettleton tried to fight them off. The gunmen shot her as well, killing her. "There were good people that ended up dying," Sheriff Soignet said of the brutal attacks. "It really hit that community hard." The Sheriff mentioned that Nettleton just happened to be over at her place when Wilson arrived.
The two men have confessed to the crime. and their bonds have been set at $2 million apiece, revealed District Attorney Joe Waitz Jr. "The death penalty is definitely on the table," he said. Breaux Cormier, Wilson, and Eskine have all been arrested on two counts of first-degree murder.
The two women murdered by the hitmen were not the intended targets, but Brittany and Hope died fighting like true heroes. Their sacrifice not only saved a young girl from a terrible fate, but the rape victim's tesimony in court could also help ensure a dangerous sex offender is put away for good.
Brittany's daughter and stepdaughter were hiding in a closet at the time of the attack and were not harmed. Samantha LeMaire, a close friend of Brittany, never expected Cormier would have to sacrifice her life to protect her daughter. "She would do anything for her kids," LeMaire said. "But to this extent? I would have never thought it would ever have come down to this."
Tearfully, LeMaire said she didn't even have time to tell her friend about her engagement or ask her to be a part of LeMaire's big day. "She was like the big sister I never had," LeMaire said. "She would have been my maid of honor. She was pretty much like the life of the party, in her own funny, unique type of way. She made you love her, and she never judged anybody."
LeMaire also added that she wasn't sure of the relationship the Cormier siblings shared. "I'm really not too sure about her relationship with Breaux," LeMaire said. "Brittany hardly ever talked about him, like hardly ever." LeMaire says she'd like to think that Brittany locked her daughter and stepdaugther in the closet so she could protect them. "Maybe they hid in the closet because they were scared," she said. "But I like to think she locked them in the closet to protect them."
Related posts