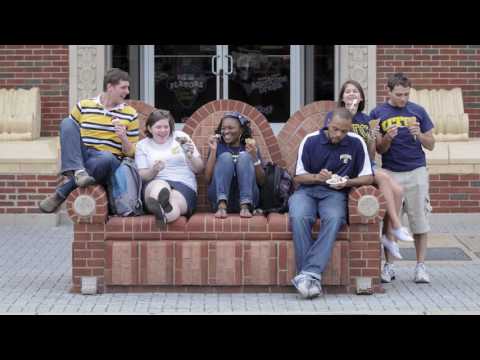 CHATTANOOGA, Tenn – The University of Tennessee at Chattanooga head of counseling has organized the first-ever virtual conference for directors of counseling centers in Tennessee universities and colleges.
Set to take place virtually on Dec. 4, the Tennessee Leaders in Collegiate Mental Health's "The State of the State, 2020" conference seeks to identify best practices for supporting college students' mental health.
The Zoom conference is the creation of Keilan Rickard, director of the UTC Counseling Center.
"There is a national organization for directors of counseling center, and several states have their own smaller group devoted to directors of counseling centers. But Tennessee did not have anything like that when I took the job here in July. This will give us an opportunity for socializing, networking and also some continuing education," said Rickard, who came to UTC after previous stops at Guilford College in North Carolina and the University of North Carolina Greensboro.
Shortly after arriving on campus and realizing a statewide list didn't exist, Rickard went to the internet. He tracked down counseling center directors of every public and private institution in Tennessee.
"I just thought it'd be an important way for us to communicate amongst directors about several Tennessee-specific mental health guidelines, state-specific legislation and mental health best practices and trends that we're seeing," he explained. "So I thought, 'Great. I'll plan it this year.'
"A lot of people just want to connect and build those networks, so I think this conference will be an invaluable resource."
Conference participants will hear diversity panelists discuss the mental health concerns of students from marginalized backgrounds. Panelists are Vanessa Peña (St. Edward's University), Vivian Barnette (North Carolina A&T University) and Andrew Lee (Monmouth University and current president of the American College Counseling Association).
Keynote speaker Jules Wilson, youth and young adult coordinator for the Tennessee Department of Mental Health and Substance Abuse Services, will share state-specific mental health trends for college-aged students and look ahead to 2021 challenges.
"Directors are not immune to stress and burnout," Rickard said, "so we'll spend time just getting the opportunity to hang out and play games and get to know each other and have some discussion breakout groups just to kind of de-stress."
The importance of on-campus counseling centers for college students continues to rise for college students.
"We specialize in knowing what college students are going through, so we understand the academic calendar and how the stressors wax and wane with the class schedule," he said.
"We are aware of the developmental issues that affect 18- to 25-year-olds. We are generalists, but we specialize in working with this age group. We provide really good care, probably better than they can find in the community."
Related posts