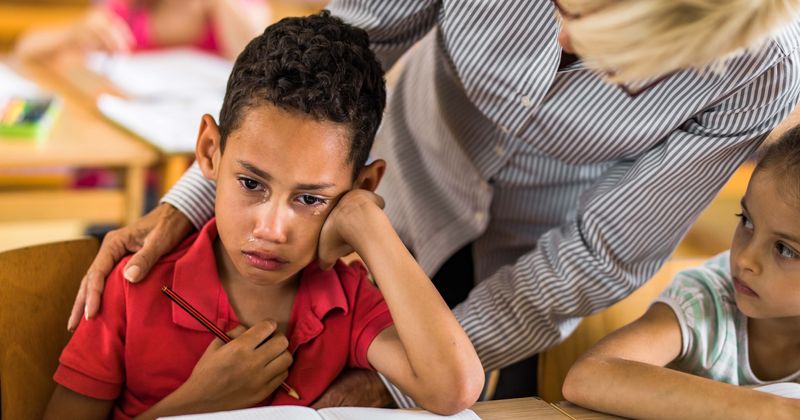 A young boy, who was once an outgoing and interactive child, is now apprehensive and reserved after his school's headmaster forced him to get down on his knees to apologize to his teacher the "African way." The headmaster at a kindergarten-to-eighth-grade school in New York,  is currently facing immense backlash for scarring the student. The 11-year-old black student was sitting in his English class when he finished his reading assignment early and decided to get a headstart on the next assignment. His English teacher then began scolding him and ripped up the paper, saying he was doing the wrong assignment, according to the boy's mother.
Trayson was marched to the headmaster's office, where Holian ordered the boy to kneel and apologize to his teacher.
"My son was humiliated, hurt, embarrassed, sad and confused," the boy's mother, Trisha Paul, said: "He reads about things happening because of your skin color. To experience it… he's just trying to process it in his 11-year-old brain."
While the punishment to the sixth-grader is disturbing enough on its own, the mother, who is a Haitian-American, was left even more shocked when she had a conversation with the headmaster over the phone regarding the incident. She couldn't believe Holian described it as the "African way" of apologizing, which he picked up on after seeing a Nigerian father use it to discipline students.
"Once he started mentioning this African family, that's when it just clicked. Like, this is not normal procedure," said Paul. "I felt there was no relevance at all. Is he generalizing that everyone who is Black is African? That's when I realized something is not right with this situation."
The phone call she had with Holian on March 1 made her believe her son, who is "a well-mannered, honor roll student," was treated that way only because of the color of his skin.
Later, on a meeting that took place on March 4, Holian told the mother, "It was a situation where your son was really disrespectful and rude to a teacher in front of the other students. The whole idea is for your son to see he can't speak to women that way."
"If I had said to him 'apologize and get back to class'… it would've meant nothing," added Holian, a 17-year-veteran of the school. "So it was changing the way you say 'I apologize.'"
While talking about seeing a Nigerian father dole out the punishment to a former student, Holian said in the meeting, "This father came in and said, 'you're going to apologize to this teacher the African way, and you're going to get down on your knees and apologize.' I've never seen that before."
Holian not only thought it was an appropriate way to discipline students but also claimed he would use it on his own children.
"I'm sorry if you're upset," Holian told the boy's mother. "It wasn't a thought-out situation."
Despite all the backlash, Holian has still "showed no remorse until he realized how it's impacted my son," Paul said.
As the Catholic school investigates the incident, Holian remains on temporary leave while young Trayson is left feeling "very reserved and humiliated," and is going to therapy.
The acting headmaster in Holian's place wrote an email to parents about the incident which said, "I want to assure you that St. Martin's neither condones nor accepts the actions of our headmaster. The incident does not reflect our long, established values or the established protocols regarding student related issues."
Related posts