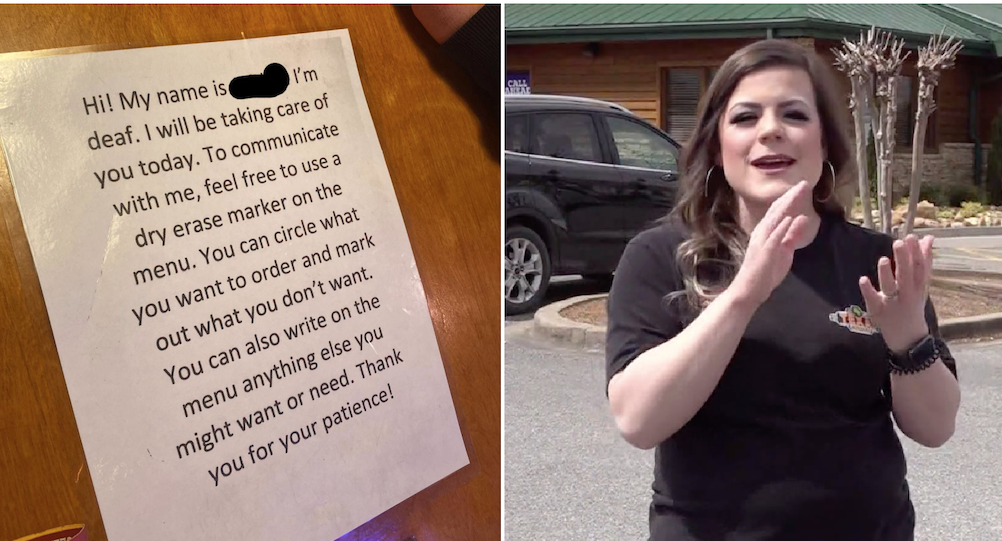 After enjoying a meal with her family at a Texas Roadhouse in Tennessee, the woman shared her experience at the restaurant on social media. It led to a response from their waitress who expressed how grateful she was to have customers like her and a place like Texas Roadhouse to work. The woman and her family went out to eat at the restaurant and when they sat down at their table they saw a sign and a dry erase marker.
The sign was an introduction from the restaurant worker, Ashlyn Walker-Postlewait who is deaf, and directed the table to circle the items on the menu that they wanted and write down anything else they may like.
"Y'all, my heart exploded. I have never seen anything like this at any restaurant I have eaten at," Jylian Abercrombie wrote on Facebook.
She said not only was their waitress one of the best they ever had, but it gave her an opportunity to teach her children.
A few days after Jylian's post went viral, Ashlyn shared the photo on her page describing what life has been like for her.
"I have been hating my deafness since I was 13 or 16," she wrote. "I just wished I could hear and be able to use my voice to talk."
In 2011 she noticed "everything seemed to start getting bad." Ashlyn was diagnosed with anxiety and depression and dealt with the loss of several of her friends. Her final straw was when she began having issues with family.
"That is it. I am tired and am done with this. People are making me feel worse about myself and my deafness and I do not know what is going on."
She made a decision to start over which included interviewing at Texas Roadhouse.
Within a few days she was hired as a waitress.
"I'm thankful that they decided to trust me with the idea of how to communicate with customers and that they decided to give a deaf person a chance to try serving."
Ashlyn reportedly said while she still doesn't like her deafness, the praise she's received recently has reminded her that she's found happiness in her life.
"I will always hate my deafness but I'm blessed with my new life right now and am trying to work on accepting my deafness and loving myself this year."
Related posts