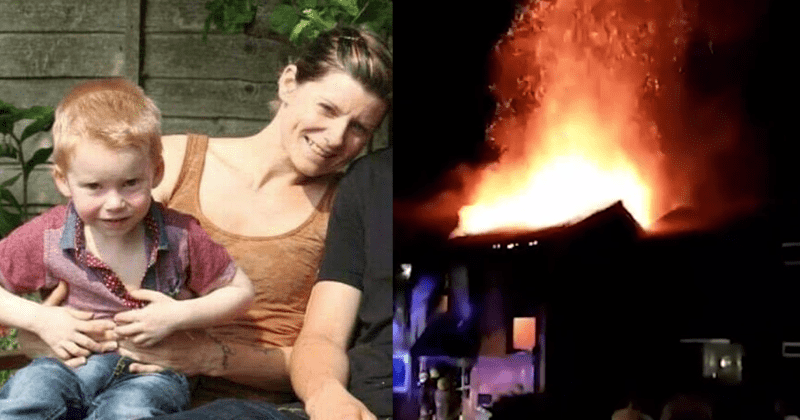 It took about two hours for the fire department to put out the flames that engulfed a house and killed a mother and son who could not make it out in time. When firefighters arrived at the scene, they found the mother crouching over the body of her little boy, Milo, after she died trying to protect him as they were right in the middle of the blaze. Lying next to their huddled bodies were the remains of a dog they were taking care of for a friend at the time.
Also with Gina at the time of the house fire was her partner, Toby Jarrett, who managed to jump out of the bedroom window but spent months in the hospital for his recovery.
As investigations began into the incident, the police believed the fire was intentionally caused, and currently, two men are the prime suspects: Jacob 'Jake' Barnard and Andrew Milne. The issue behind the fire was a sum of money that Toby owed a local drug dealer, who in turn owed some money to Barnard. When Barnard didn't get his money back, he allegedly targetted Toby's house to send across a warning message to others in the community.
"Don't mess with this drugs line" was the message that Barnard reportedly wanted to give out. In court, prosecutor Kate Lumsdon QC said, "He wanted to make an example of him. He said that he and 'a Scottish guy' had poured petrol through the letterbox and set fire to the house." On the night of the fire that took place in July 2018, Gina woke up to the startling sight of smoke all around her at around 1:30 am. She jumped out of bed and quickly ran to grab her four-year-old son before joining Toby in trying to escape through the bedroom window.
From the windowsill, Toby tried to balance but fell to the ground. "Struggling to his feet, he shouted to Gina to pass Milo down to him. There was no reply," Lumsdon said in court. While speaking to the jury, Lumsdon also said that one of the suspects, Andrew, had stopped by a gas station four days before the fire and purchased 15 liters of petrol. Not only was a lighter and fuel can recovered from the house later, but CCTV from one of the houses in the area captured two men walking away from the residence. One of them even turned around for a glance at the burning house.
While Gina and Milo passed away from smoke inhalation, Toby was covered in burns across his body and suffered a number of fractures.
"Totally broken and distraught," their family said that Gina and Milo's deaths caused a "terrible loss and the huge hole in all of our lives." They described Gina as "free-spirited" while young Milo was "playful, cheeky and lovely little boy… full of fun and smiles." Currently, the trial still continues.
Related posts