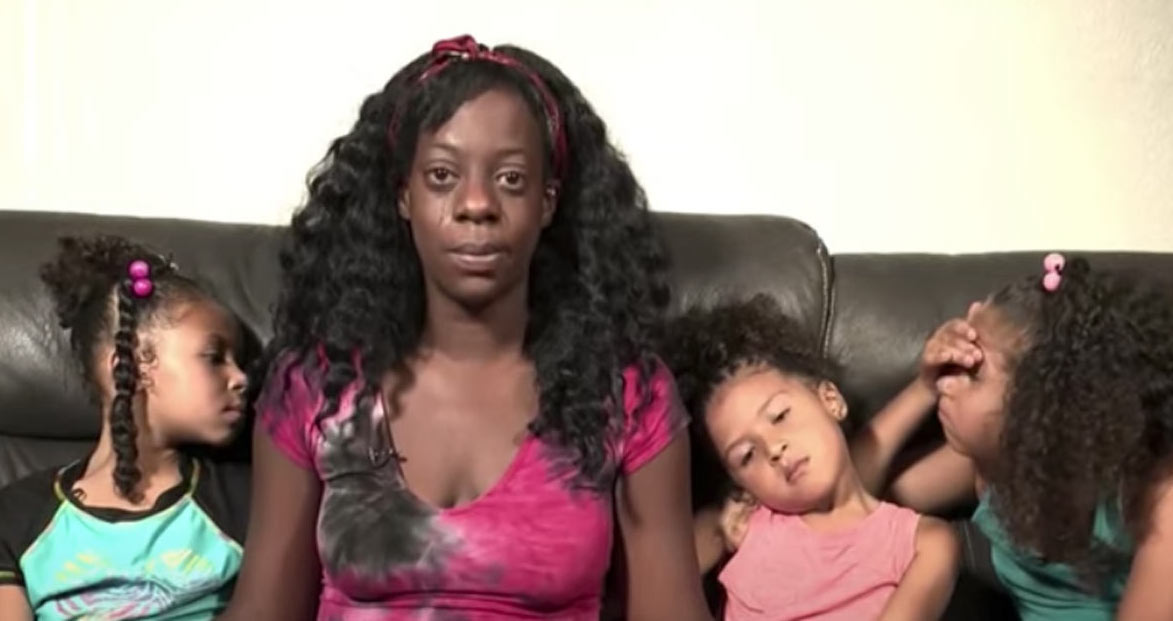 Dasha used to have a furnished apartment, but the COVID pandemic has forced the mom of three to sell or pawn pretty much all she owns. Her three young daughters now have to sleep on the floor and play with what few toys they have left while mom donates blood plasma so she can afford to buy groceries. The one thing the mom knew she wasn't going to lose was the roof over her head – or at least not while the federal eviction moratorium was in place. Last year the 32-year-old mom of three girls aged 8, 6 and 5 lost her job as a card dealer after the pandemic forced casinos to shut down.
The federal eviction moratorium temporarily halted residential evictions to prevent the further spread of COVID.
This came to an end on Saturday, July 30 at midnight, leaving millions of Americans receiving 24-hour eviction notices and waiting for that knock on the door.
Dasha Kelly said she had tried everything to get back on her feet but with no car or computer and looking after three children, while trying to find the money every day just to feed them, it hasn't been easy.
She said her kids don't know what's going on adding it was "something I'm afraid of telling them. How do you explain that to your kids I don't have the words, I think I'll just break down crying," she said, while sitting on the one of the last pieces of furniture she had left in her apartment.
"All I can do is hug them and tell them everything is going to be okay."
Her last resort was to set up a GoFundMe on Monday night in the hopes of raising the $2,000 she owed in back rent.
"We owe $1,900 for rent alone not including utilities," she wrote on the page.
"I will figure out utilities by pawning a few things. As you all know it is entirely still too hot to be homeless. My daughter's are aged 5, 6, and 8. Please help with anything you can."
Just 24 hours later, the campaign has raised more than $172,000 from more than 2,700 donors and by Wednesday the total had exceeded $200,000.
After finding out just how much had been donated Kelly said: "It gave me a lot of hope. And I just want to make sure I do the best that I can to help the next person that is in my same situation."
Related posts