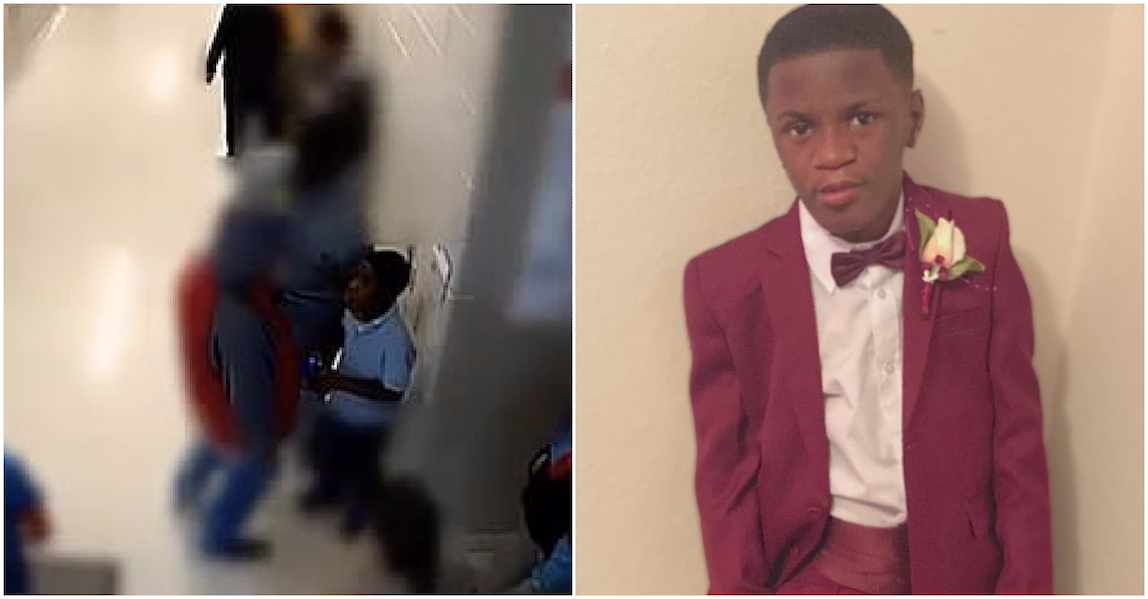 The non-verbal autistic boy was allegedly attacked and beaten by another student as 3 teachers' aides stood by and watched on. Per reports, the video captured the moment when the 11-year-old special needs boy, who has the intellectual capacity of a 4-5-year-old, was mercilessly beaten by another student as three adult teachers' aides stood by and watched on. 
The video was reportedly obtained by KHOU and it shows the special needs boy from Texas, later identified as Sekai, getting thrown to the floor by a much larger special needs pupil after he appears to bump him into a line at school.
Sekai reportedly gets up and the student punches him to the floor again and repeatedly kicks him as he crawls along, footage shows.
According to reports, at least one adult can be seen in the video looking on. At one point, the school staffer taps the student on the shoulder, but the boy continues to kick Sekai without the adult intervening.
According to reports, three school aides were actually present at the time. Unfortunately, none of them inexplicably stepped in to stop the assault.
The boy's grandmother, Veda Cavitt, decided to make the video public this week. She said this unfortunate incident occurred on Jan. 25.
Veda Cavitt, who has custody of the 11-year-old boy after both his parents passed, said:
"Those adults in that video stood there. They did not attempt to help my child get up off the ground. They did not offer him any assistance. They didn't even check to see if he was injured.
I need them removed. I need them removed. They serve no purpose here. They serve no purpose here. They cannot do their job."
The grandmother also said that she simply can't pull her grandson out of school because it would be too disruptive. The grandmother and advocates called on AISD to fire the aides.
On Thursday, the school district released the following statement:
"The incident at our school between two special needs students on January 25 is sad and deeply concerning. The district launched an immediate investigation; however, upon further review, the District has taken additional action.
The District no longer employs the aides present during the incident. This incident should not have occurred.
The district trains paraprofessionals in nonviolent crisis intervention techniques at the beginning of each school year, and will reinforce that training during the remainder of this year. As such, the district expects everyone to conduct themselves in a manner that demonstrates the proper regard for others and does not tolerate behavior that infringes on the safety and emotional well-being of any student or staff member.
Our district leaders will continue to work together to find solutions which provide a safe, healthy and nurturing learning environment in our schools in order to support academic achievement, respectful interactions and engagement."
Related posts