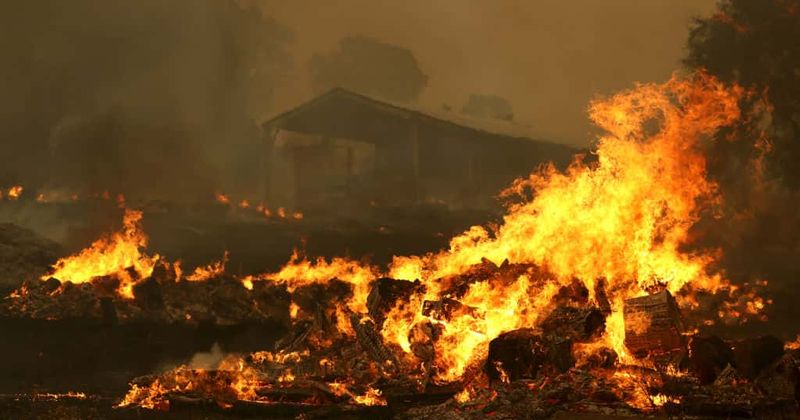 As if the pandemic wasn't enough to make 2020 painful for everyone, Northern California suffered the largest wildfire in the state's history. It took the lives of two people.The Markley Fire started on August 18, 2020, near Lake Berryessa before rapidly spreading and killing Douglas Mai, 82, and Leon "James" Bone, 64, who lived miles away from the origin point.
However, after months of investigation, Solano County authorities found and revealed that the fire was ignited to cover up a woman's murder. A month after the blaze, Vacaville police arrested 29-year-old Victor Serriteno for the murder of 32-year-old Priscilla Castro.
It was her burned body that was found in the area that the fire began. "Based on an extensive 8-month long investigation, we believe Serriteno deliberately set the Markley Fire in an attempt to conceal this crime. Earlier this morning, Sheriff's detectives arrested Serriteno for additional charges including murder and arson," said Solano County Sheriff Tom Ferrara at a news conference.
Authorities shared that Priscilla met Victor on August 16, 2020, for a date but she went completely off the grid soon after. Her car was discovered abandoned just two days after her date. Meanwhile, detectives also got cell phone records as well as other data to triangulate her location. It was through a grid search that they achieved their goal on September 2 and found her body. "You pull anything out of your mind to hope to see her again, that it didn't really happen," Priscilla's mom, Lisa Phelps Nunez said. She also revealed that her beloved daughter had her own nine-year-old girl and used to see dreams of owning a hair salon. 
The investigation took so much time because the Markley Fire merged with other wildfires during the time. It joined the fatal LNU Lightning Complex blaze. This blaze was one of the largest ever in California; it killed six people, destroyed 1,500 buildings, and a total of 363,000 acres. "The moment a fire begins burning, there's an element within Cal Fire that begins investigating how those started," Solano County Sheriff Lt. Jackson Harris explained. "And with the scope and size of this fire … unfortunately it just took a little bit of time."
Though Victor has pleaded not guilty to Priscilla's murder, he will still be arraigned for homicide and arson in the case of the two men who died in Solano County. "I knew there were ugly people in the world, but I never knew they would do something to someone so close to us," Priscilla's sister, Jasmine Castro said. "Loving, my sister would give you the shirt off her back. She would do anything for anybody." As for the men who were killed in the fire, Jasmine shared her empathy for their families. "We know the pain," she said. Victor "doesn't deserve to get away with not one bit of this," she added.
Related posts