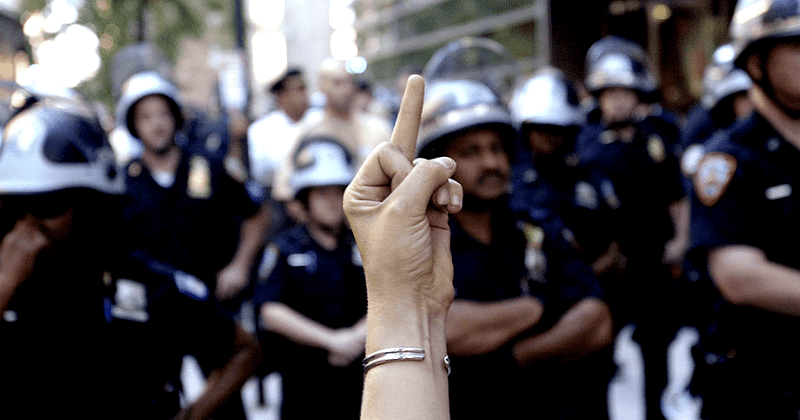 The death of Breonna Taylor, a Black medical worker in Kentucky who was killed in her apartment by Louisville police officers during a botched raid in the state of Kentucky led to outrage in the community and a widespread movement – the fight against policing and racial injustice in the country. "At this point it's bigger than Breonna, it's bigger than just Black Lives," said Breonna's mother, Tamika Palmer while urging authorities to serve criminal charges to the respective people. "We've got to figure out how to fix the city, how to heal from here."
However, it may seem that while Tamika and others are striving to make changes, the state of Kentucky has some different ideas. The state's General Assembly has passed a bill that makes insulting officers a crime.
Senate Bill 211, which was passed just two days in the state Senate before the anniversary of Breonna's tragic shooting, makes it a misdemeanor if someone "accosts, insults, taunts, or challenges a law enforcement officer with offensive or derisive words, or by gestures or other physical contact, that would have a direct tendency to provoke a violent response." Should one be convicted of the crime, they could face up to 90 days in jail and fines of up to $250.
State Sen. Danny Carroll (R), a retired police officer who sponsored the bill, claimed that it would allow authorities to make an arrest of someone who is provoking them before the encounter turns violent. It is supposed to include comments that are "obviously designed to elicit a response from the officer — something to push them to making a mistake, pushing them to violence," he said, though the courts still have to make the final call in how the rule would be interpreted. "You don't have a right to accost a police officer," Carroll added.
Additionally, the bill would categorize "riots" as illegal with the term being defined as a "public disturbance" of five or more people whose "tumultuous and violent conduct creates grave danger of damage or injury to property or persons or substantially obstructs law enforcement or other government function." This addendum came just as hundreds prepared to gather to honor Breonna's first death anniversary.
Senator Carroll said, "This is not about lawful protest in any way, shape, form or fashion. This country was built on lawful protest, and it's something that we must maintain – our citizens' right to do so. What this deals with are those who cross the line and commit criminal acts."
However, while the state Senate may have approved the bill, there are many who don't like it. Tyra Thomas-Walker, co-chair of the Kentucky Alliance Against Racist and Political Oppression said, "Some people are just emotional, and they're saying things because they're angry, they're mad, they're traumatized, but they're not acting on it. Why criminalize someone for their words? We have to protest now with tape over our mouth?" The bill seemingly goes against the First Amendment which ensures the public's freedom of speech and expression.
"It's criminalizing speech in a way that's directed at protesters and people who are speaking out against police action," said Corey Shapiro, American Civil Liberties Union of Kentucky's legal director. "It is a bedrock principle of the First Amendment that people should be able to criticize police action, even if it's using offensive speech."
Chanelle Helm, an organiser with Black Lives Matter Louisville said, "People are not shot and killed by police because they go and protest, we protest because people are getting shot and killed by police. They're meaning to silence our voices, and that is against our constitutional rights." Either way, the bill still has to go through the House of Representatives before anyone sees if it gets enforced.
Related posts