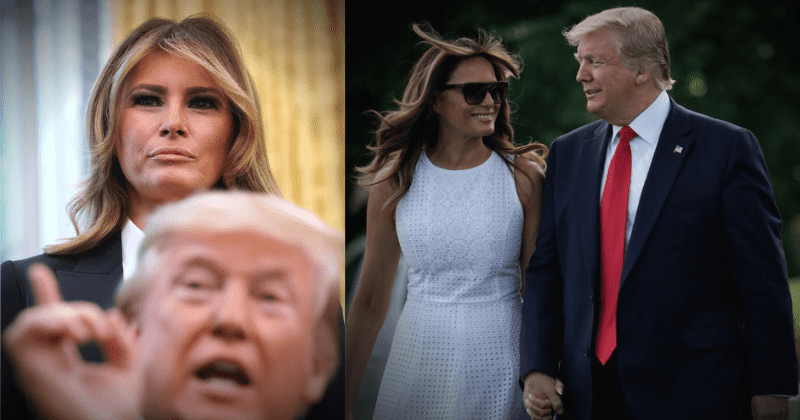 "Bitter and chilly" was how a source described Melania Trump's attitude towards her husband after nearly a month passed since they left the White House. The former first lady and ex-president have had rumors of divorce swirling around them for several months, but now, Melania Trump is ready to "put her foot down" and set the record straight about her marriage. Pushed by the urge to protect her husband's "decency and integrity," Melania may have stayed quiet while she was the first lady but now that her family is no longer in Washington, Melania is reportedly giving a "warning shot" to those "assuming and creating mystery around her relationship," according to Relationship expert Carole Ann Rice of Real Coaching.
"Now that Melania isn't the first lady, she probably has a new sense of freedom now that she can speak out where she perhaps felt she couldn't before out of decency and integrity to protect her man who is in the White House," Rice said. "So she is probably thinking 'it is finally the time for me to speak up…'"
Earlier in November, claims of Melania and Trump ending their 16-year marriage heightened when ex-aide Omarosa Manigault Newman said: "Melania is counting every minute until he is out of office and she can divorce. If Melania were to try to pull the ultimate humiliation and leave while he's in office, he would find a way to punish her."
In an interview with BBC, Melania's ex-friend and former aide Stephanie Winston Wolkoff also said the Trump couple share nothing more than a "transactional marriage."
"Donald got arm candy… and Melania got two dynamic decades," Wolkoff said.
Now, Melania thinks "enough is enough" and is hitting back saying these sources don't know what goes on inside her marriage with Donald Trump.
"Only her and Donald Trump know the truth, nobody outside of the marriage knows exactly what goes on within the marriage," Rice said. "Yes, maybe the marriage isn't perfect and she has certainly displayed moments of irritation and dislike but that is entirely personal."
Rice also commented on Wolkoff's previous revelations about Donald and Melania sleeping in separate rooms during the four years they spent at the White House. "A lot of people sleep in spare rooms, a lot of people sleep in separate houses when they are married so it's not unusual," Rice said.
Talking about Melania standing up for her marriage while others go on making claims against them, Rice added, "I think she is right to nip it in the bud, but it might also mean that they have touched a bit of a sore spot in her life and in her marriage as well." While speaking to the publication, Rice also said, "it could also be a warning shot where she could start to get lawyers in on this – so it could be instead of it becoming a big issue, this could be her way of nipping it in the bud because she doesn't want it escalating and it also warns others to keep away."
Related posts