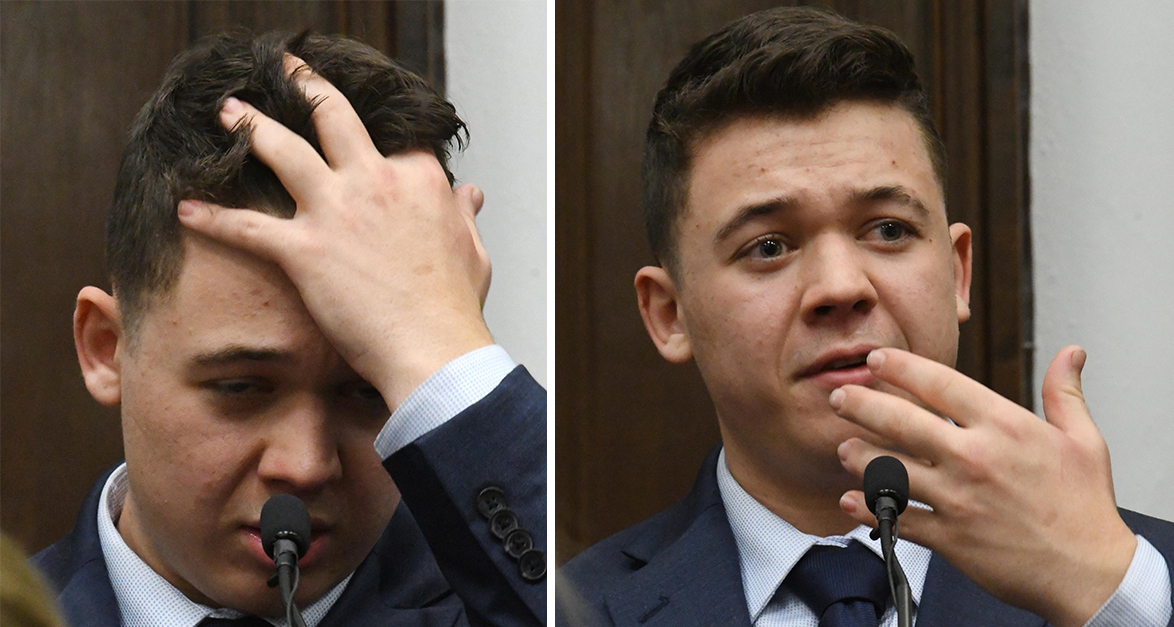 The trial of Kyle Rittenhouse took an unexpected turn earlier this week when he took the stand to deliver a testimony himself as to the events of the night of August 25, 2020. Rittenhouse rose to worldwide infamy after shooting at four people, killing two of them and wounding one, in the midst of unrest after the shooting of Jacob Blake, a 29-year-old Black man, by Kenosha police.
Facing charges including first-degree reckless homicide, use of a dangerous weapon, first-degree recklessly endangering safety, use of a dangerous weapon, first-degree intentional homicide, use of a dangerous weapon, and attempted-first degree intentional homicide, use of a dangerous weapon, Rittenhouse claims that he was acting purely in self-defense.
According to Rittenhouse, Rosenbaum said: "If I catch any of you f**kers alone, I'll f**king kill you."
After becoming separated from the other armed citizens in his group, Rittenhouse said he walked towards a parking lot, only for Rosenbaum, who had been hiding behind a vehicle, to "ambush" him.
At this point, Rittenhouse broke down in tears before the court, then benefitting from a short break afforded by Judge Bruce Shroeder.
When he returned, he went on to state that he heard another man tell Rosenbaum to "get him and kill him". Rosenbaum is said to have chased Rittenhouse around the parking lot and threw a plastic bag at him – Rittenhouse said he thought it was a chain.
Rittenhouse told the court that he heard a shot behind him, only to turn back and find Rosenbaum coming at him with his arms out in front.
"I remember his hand on the barrel of my gun," Rittenhouse recalled. He then shot Rosenbaum four times, killing him.
In Rittenhouse's words, what ensued was him being chased by a "mob" while he sought to turn himself in to police. He claimed he had gotten light-headed and fell to the ground, where an unnamed person jumped at him and tried to kick him. Rittenhouse fired at the person twice, because: "I thought if I were to be knocked out, he would have stomped my face in if I didn't fire." 26-year-old Anthony Huber then hit Rittenhouse with a skateboard and grabbed his gun. Rittenhouse shot him once in the chest, also killing him.
Lastly, then-26-year-old Gaige Grosskreutz lunged at him and pointed a pistol at his head, so Rittenhouse shot him as well. Grosskreutz, though injured, survived.
Arguably the most pivotal admission made by Rittenhouse during his testimony was that he knew his first victim, Joseph Rosenbaum, was not armed when he shot him dead.
A visibly-shaken Rittenhouse reinforced the idea that he didn't do anything wrong in killing Rosenbaum, stating: "I didn't do anything wrong. I defended myself." In a cross-examination that could prove key moving forward, Rittenhouse acknowledged that he knew Rosenbaum was unarmed, claiming that he had only pointed his rifle at the man as a deterrent.
"He was chasing me, I was alone, he threatened to kill me earlier that night. I didn't want to have to shoot him," Rittenhouse said. "I pointed it at him because he kept running at me and I didn't want him to chase me." Rittenhouse added that his biggest fear was that Rosenbaum might disarm him and then use the gun to hurt others.
He said: "If I would have let Mr. Rosenbaum take my firearm from me, he would have used it and killed me with it and probably killed more people if I would have let him get my gun."
Related posts