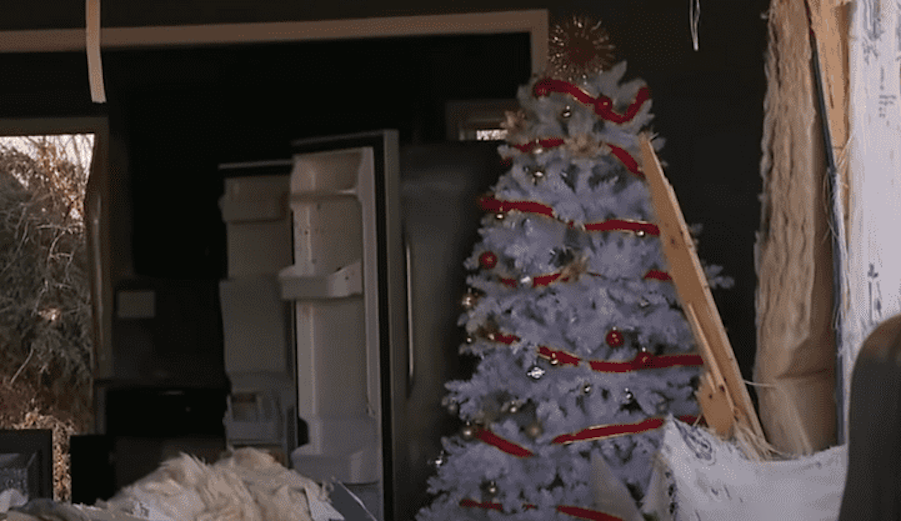 The storm and tornadoes that hit six states over the weekend have brought nothing but destruction, tears, and loss. But amid this deadly devastation, the Missouri community stumbled across an unexpected glimmer of hope: A Christmas tree. As the members of the community took to the streets in an effort to clean up the area, they surprisingly noticed a lone Christmas tree standing inside what was left of a home.
Pastor Danny Lybarger of The Well, a United Methodist congregation, said, "There's one house where the whole front was ripped off. You look right in and the only thing that's left standing is their Christmas tree with presents underneath." He continued, "It was an interesting sign of hope. It was like the season was left standing."
Lybarger explained that the beautiful tree still remains the "most visible thing" from a nearby roadway that encouraged vehicles to "slow down to look at it."
The sight of the tree brought comfort to the town which is understandably still processing the disastrous outcome of the storm. "What happened was tragic," said Lybarger adding that one was killed and two others were injured. 
The pastor is now encouraging people to come together and help others in need. "The tragedy of it sucks but it's amazing to see the way that it galvanizes people. It galvanizes people that are progressive and conservative and across all sorts of religious spectrums and all sorts of life experiences," he shared. 
The storm, that started Friday night and ended early Saturday, unleashed fatal tornadoes throughout  Arkansas, Kentucky, Illinois, Ohio, Indiana, Missouri, Mississippi, and Tennessee. The death toll in Kentucky is already 74 with its governor called it "one of the toughest nights in Kentucky history." 109 people still remain unaccounted for as per governor Andy Beshear. 
"This is the deadliest tornado event we have ever had," the 44-year-old said. "I think it's going to be the longest and deadliest tornado event in U.S. history."
Related posts