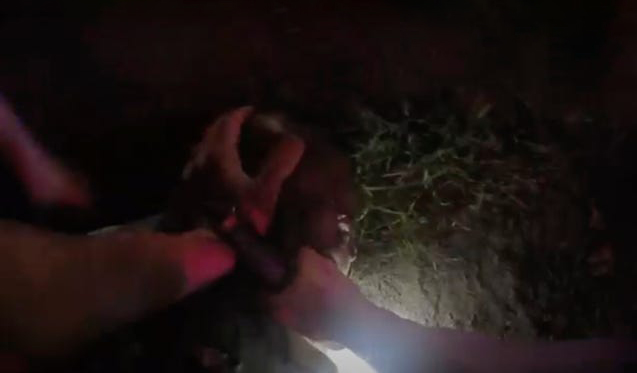 According to the statement, the newly released body camera footage shows a trooper brutally beating a Black man with his flashlight. The video shows that the black man was bleeding from a head wound and saying: "I'm not resisting." This footage was obtained by The Associated Press and released Wednesday.
This footage was released more than two years after Louisiana State Police Trooper Jacob Robert Brown struck Aaron Larry Bowman 18 times during the 2019 arrest, leaving him with a broken jaw, broken wrist, three broken ribs, and a cut on his forehead that needed six staples to close.
The 31-year-old trooper defended his actions, saying that the victim had attacked one of the deputies on the scene and his use of force was "pain compliance" used in an effort to cuff Bowman. Bowman has steadfastly denied that he ever struck a law enforcement officer and the video does not show him being violent in any way.
The video, which runs just over two minutes, shows Brown running over to where several other officers have Bowman on the ground and almost immediately start hitting him with an eight-inch aluminum flashlight while yelling, "Give me your fucking hands—I ain't messing with you."
"I'm not fighting you, you're fighting me. I'm bleeding. They hit me in the head with a flashlight. I haven't done nothing." Bowman says.
According to the police officials, the trooper intentionally mislabeled his body camera footage as a "citizen encounter," a move that investigators said was an intentional attempt to hide the video from any administrative review. He left the force in March with a total of 23 reported use-of-force incidents from 2015 to 2021. 18 of those incident involved Brown using force against a Black person.
Related posts