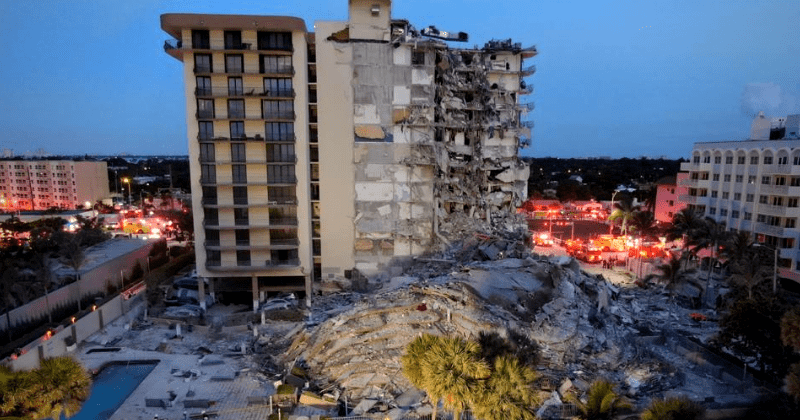 Rescue crews worked through the night as they raced against time to find the unaccounted people trapped under the debris after the deadly building collapse in Florida on Thursday, June 24. From what remained of the structure, large heaps of rubble and dust piled up. Materials were dangling from the debris after 55 of the 136 units crumbled to the ground at around 1:30 am. 
As of Thursday afternoon, at least 99 people were still accounted for and one person passed away
"What we saw from the beginning was a huge cloud of smoke and a lot of noise," said Mich Balkany, who was out for a walk when the 12-story condo collapsed.
"We saw this happen. It was by far the most horrific thing that I've seen. I was alive for 9/11. I didn't see that happen in real life. I saw something like this happen and it's the closest thing that I can relate to 9/11," Mich Balkany said. "This is something that is absolutely insane… insane, insane, insane, insane."
Also on the walk with Mich at the time was Shmuel Balkany, who said, "We have friends who have family that live in the building. We don't even know if they're OK. Some of them are OK. We don't know if the rest are OK. It's very shocking. We're shook. We're pretty shook. It's not, like, processing in our minds yet."
Those inside the building during the time of the catastrophe are absolutely shaken and can't believe that people living just a few feet away from them might no longer be alive.
Bruno Treptow, 62, was fast asleep inside the 40-year-old building when he woke up and felt the floor move beneath him.
"I thought to myself, the roof is caving. I turned to my wife and she wakes up startled. And she says no it can't be," Bruno said. "So I hug her. I give her a hug and say, 'Listen, this is it. We're gonna die.'"
Minutes later, Bruno stepped out of his unit and saw the remains of the calamity right before him. In the place where his neighbor's door should have been, he saw that only the frame was left.
"That complete side of the building was not there," said another resident, Marian Lopez. "The apartments were gone."
Bruno said there were "three families that I know well," but he doesn't know if he will ever see them alive again.
Rescue operations began soon after the collapse and Bruno was among the residents who safely made it out.
Around 8:30 pm on Thursday, Miami-Dade County Mayor Danielle Levin Cava said, "We did identify and declare safe 102 people, and 99 we still cannot account for, some of whom may not have been in the building. Our firefighters, men and women, are working around the clock, a huge task force of people… they are proceeding with all of their might. They are so motivated to bring people out safely and restore them to their loved ones."
Related posts