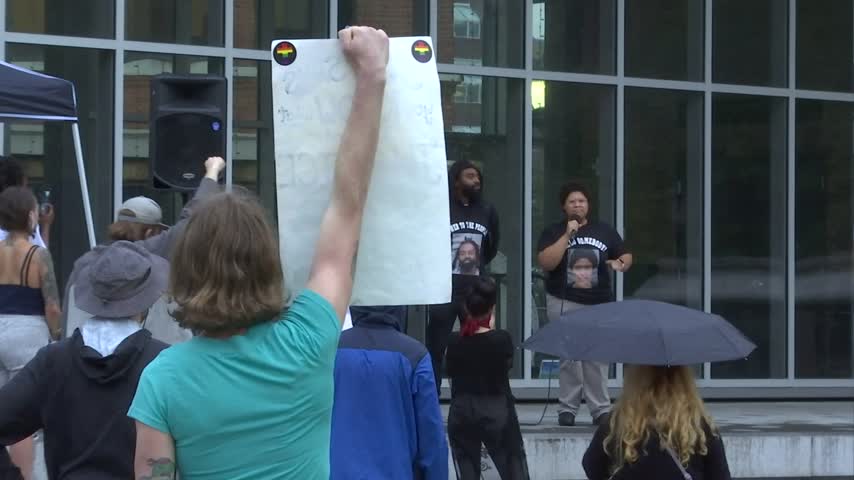 Wednesday night in Chattanooga, protestors reacted to the grand jury decision in the Breonna Taylor case.
They are led by the same group named "I Can't Breathe CHA" that has gathered since May 30, saying they are fighting against police brutality.
Wednesday, about 60-70 people showed up all to be in solidarity with Breonna Taylor. Since the group has been asked to leave the streets, they marched on the sidewalks, stopping in front of both courthouses.
CHATTANOOGA, Tenn – "Breonna Taylor is our sister and we feel awful that she was killed during that day," said Lebron Nash, a protestor and Chattanooga resident.
Wednesday, the Grand Jury made a decision in the Breonna Taylor case, the woman shot in her home by Louisville police officers executing a no-knock warrant. They were reportedly fired upon by Taylor's boyfriend when they burst into her apartment.
Six months later, the charges have been announced, leaving protestors across the country upset, including here in Chattanooga.
"They only charged one officer out of all three of them," Nash said.
Former Louisville police officer, Brett Hankison, has been indicted on three charges of wanton endangerment in the first degree. The other officers involved were not charged.
"I was hoping for murder charges," said another protestor and Chattanooga resident, Joshua Mays.
Many protestors in Chattanooga wanted all three officers to be charged with murder, however they weren't expecting it.
"Just really devastating but not surprising," Mays said.
"I'm not surprised by it at all because it's the same thing that's been happening for years now," Nash told us.
Which is what led them, they say, to take their cries for justice to the streets in Chattanooga Wednesday
"We're doing this to make a change and then hopefully our voices will be heard," Nash said.
They marched, stopping in front of the courthouse on both sides chanting Breonna Taylor's name.
Lebron Nash says he won't stop until justice is served.
"We demand justice for Breonna Taylor cause all three of her murderers wasn't charged properly. This so-called justice system is supposed to do it, so we just out here demanding justice for it. For our little sister," said Nash.
Related posts