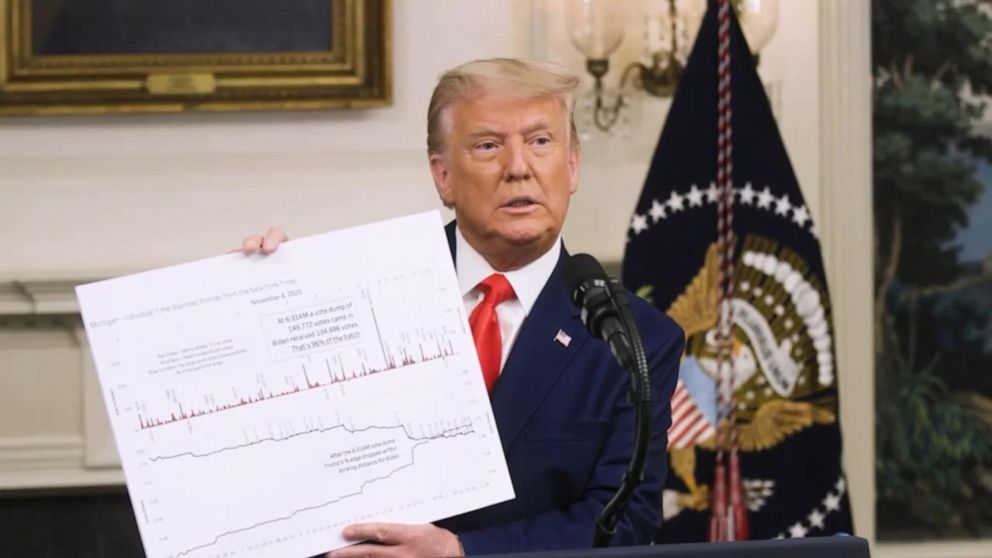 CHATTANOOGA, Tenn – Some of President Donald Trump 's staunchest Republican allies on Capitol Hill are preparing what could be one of the president's last long-shot opportunities to challenge the certification of the presidential election results in January and disrupt the peaceful transfer of power before Biden's inauguration.
When Congress gathers to count the electoral votes on Jan. 6, at least one Republican House member, Rep. Mo Brooks of Alabama, will object to the slate of presidential electors from multiple states — an effort that would likely only make a symbolic stand, and delay the certification of the presidential race results by hours, rather than alter the election results.
With the support of a single senator, Brooks could disrupt the certification of the election by forcing both the House and Senate to debate and vote on the challenge — turning the typically ceremonial proceeding on the House floor led by the vice president into another venue for disputing Trump's loss.
"If the vote count was limited only to lawful votes cast by eligible American citizens, then Donald Trump won a majority of the Electoral College votes and was reelected to a second term," Brooks said in an interview, echoing the president's claims that have been rejected by experts and state officials from both parties.
Trump's efforts to cast doubt on the results of the election by alleging widespread fraud have been undercut by state leaders, election officials, courts across the country, the agency that led the Department of Homeland Security's efforts to secure the election, and just this week, by his own chief law enforcement officer. In an interview with The Associated Press, Attorney General Bill Barr acknowledged that the Justice Department has uncovered no evidence of widespread voter fraud that would change the outcome of the election.
Brooks has made a series of floor speeches disputing the election results, and unleashing false allegations that Biden's victory was attributed to noncitizens voting across the country and relaxed voter identification laws in critical states.
But election experts have dismissed his assertions altogether, pointing to a lack of proof of systemic illegal voting.
"That is extremely unlikely," said Lorraine Minnite, a professor of public policy at Rutgers University — who has studied allegations of voter fraud for more than a decade — of Brooks' claims about noncitizens swaying the election in Biden's favor. "The record of noncitizens voting is practically nonexistent."
Related posts