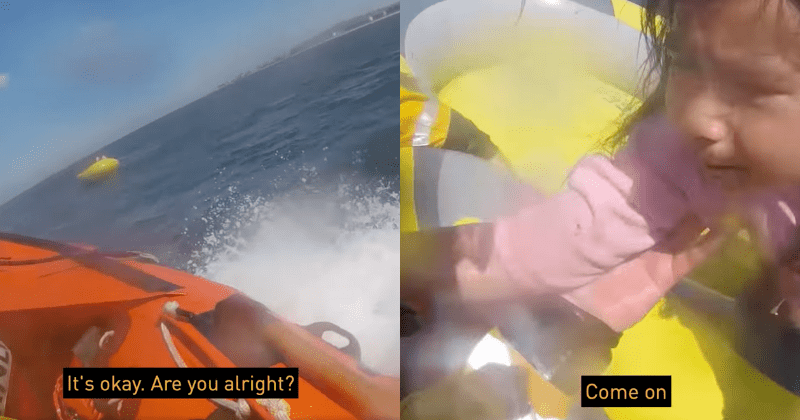 An eight-year-old girl had to be rescued from the sea after her dinghy drifted away. The young girl was reportedly in the dinghy which was attached to a safety line on the shore.  Somehow, the line became detached, causing the girl and the dinghy to drift further away from the beach. 
Soon enough, around 2 pm, lifeboat crews from Rhyl RNLI were sent out to rescue the young girl. The team went out to the sea in a lifeboat to rescue the girl. A video recorded and shared on Facebook by the rescue team shows just how scared the girl was to be out in the sea all alone. 
The team shared the video with the caption: "After the safety tether on a young girl's inflatable became detached, the terrified youngster was picked up by volunteers from Rhyl RNLI and safely returned to her family. Even with a safety line in place, this incident is a dramatic reminder that inflatable toys are not suitable for the beach and can quickly get blown out to sea by offshore winds."
"Thankfully, in this situation, a quick 999 call was made to the Coastguard and a tragedy was averted. We're grateful to the family for letting us share their story and your kind donations will help us continue to provide our lifesaving service," they said.
In the video, as soon as the boat reaches the girl in her dinghy, she lets out a scream, probably out of relief. She can be heard sobbing, saying "please help me, I'm scared." The crew assures her she's in safe hands and then took her to her parents. 
"The inshore lifeboat crew from Rhyl, North Wales launched at 1.22 pm and 1.47 pm for two such similar 999 calls to the HM coastguard center at Holyhead. However, it was confirmed that a young child was still aboard the second inflatable. The crew proceeded at full speed to the casualty, which was not far from the first, and so was on scene within three minutes of the second call. The child was a few hundred meters out at sea, but luckily had stayed on the inflatable," said a spokesperson for RNLI. 
They continued: "The child's family had kept a safety line to the shore, but it became detached from the shore and the dinghy drifted out. The crew came alongside and took the child on board with the inflatable, and successfully returned both to the waiting family on the shore, who had been located by Rhyl volunteer coastguard teams who offered safety advice to the family."  The girl is safe but the experience must have definitely shaken her up!
Related posts