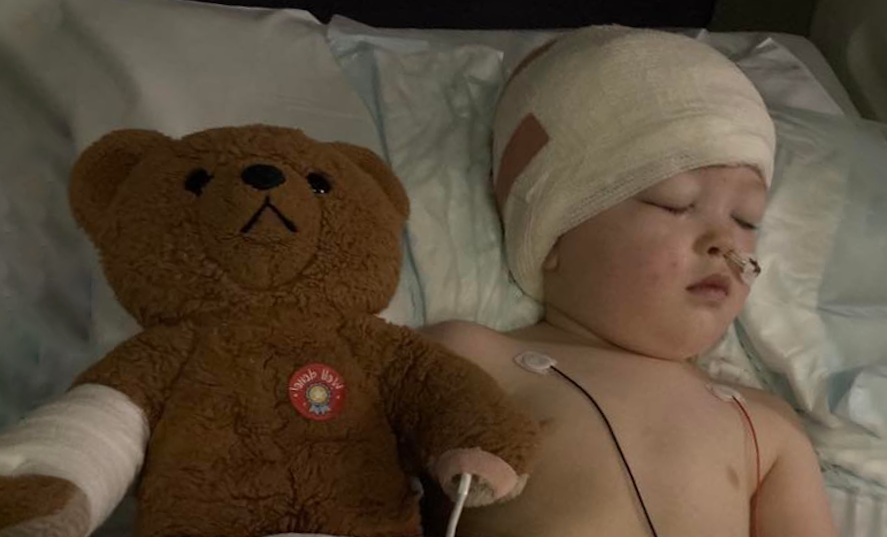 Parents of a 3-year-old boy say that doctor reportedly told them that their son's symptoms were just 'attention seeking' until the toddler was diagnosed with a life-threatening disease. The parents also said that they spent months begging the doctors to take the little boy's symptoms seriously. It all started in December last year, his mom said. Up until then, the 3-year-old toddler was just a normal, healthy and happy little boy. Around that time, he was sent home from nursery a few times with sickness, the family said. The nursery staff also noticed that the young boy was becoming unstable on his feet and wanted to take more naps.
Arthur Ridout and his wife Lauren told The Mirror that they spent months going to the doctors and literally begged them to take their son's symptoms seriously. Lauren regularly took her baby son, Arthur, to the hospital after the child complained about nausea and headaches.
The mother claims that one of the doctors dismissed his symptoms as 'attention seeking'. Two months later and many visits to the hospital, the 3-year-old boy was diagnosed with an aggressive medulloblastoma, which is a common type of brain cancer in children.
The boy's father told The Mirror that his young son is now receiving treatment. 
According to the boy's parents, Arthur's symptoms began to show when he was at nursery back in December 2021. The medical personnel at the hospital noticed the baby was unstable on his feet and needed more naps than the others. 
The boy's mother took him to the hospital many times, but doctors reportedly told her that she should "keep an eye on him". The 3-year-old boy was rushed to the emergency room after falling ill in a park on February 5.
The boy's dad, Simon, reportedly told The Mirror: "Lauren went down a slide with him on her lap and when they got to the bottom, he was dizzy and wanted to lie down in the dirt. When they got to the hospital, they saw a few different medics and one of them suggested that Arthur could have been attention-seeking, which made us really cross."
Two days later, a scan revealed that the toddler's symptoms were caused by a brain tumor. The doctors also told the parents that Arthur's tumor was causing hydrocephalus, a build-up of fluid resulting in pressure on the brain.
Unfortunately, the young child undergo 5 lumbar punctures in just 5 weeks to confirm no spread of the cancer to his spine before undergoing emergency surgery to relieve the cranial pressure.
Just few days later, the little boy underwent a 13-hour surgery to remove the tumor. According to his parents, after the surgery, the 3-year-old boy developed posterior fossa syndrome, which means he had to learn to eat, talk, move and walk again.
Lauren and Simon alto told The Mirror that their 3-year-old son will soon start 8 rounds of chemotherapy to prevent the tumor growing back.
The boy's parents have launched a fundraiser to raise money for rehabilitation, whether for his physical/neurological development or specialist educational needs. 
"During the months leading up to February 2022, Arthur was suffering from worsening dizzy spells, vomiting and headaches. After numerous doctors appointments and a trip to ER he was diagnosed with a malignant Medulloblastoma brain tumor.
The tumour was blocking the 3rd ventricle stopping it from flushing through his cranial spinal fluid causing it to fill making his cranial pressure dangerously high (Hydrocephalus). He had emergency surgery to release the pressure and two days later he had 13 hours of surgery to remove his tumor at the children's hospital.
The surgery was successful. However, Arthur went on to develop posterior fossa syndrome also known as cerebellar mutism which is a common occurrence with removal of medulloblastoma in children. He is currently at the beginning of his rehabilitation. Learning slowly to eat, talk, move and walk again.
On top of all that he's already endured, Arthur is having to have 6 weeks of head and spine radiotherapy to be followed up by 8 rounds of chemotherapy which, doesn't come without its numerous short and long term side effects, especially on a 3 year old's body and brain. We pray that Arthur will make positive steps in his recovery but the severity of his long term side effects are unknown." the fundraising page wrote.
The couple from UK is also raising money for Brain Tumor Research to find a cure for the devastating cancer by taking part in the charity's 'Jog 26.2 Miles in May Challenge'.
Related posts